Terrifying Video Shows Shark Circling Two Girls As They Swim at Beach
Video footage of a shark appearing to circle a pair of blissfully unaware swimmers has gone viral online—terrifying viewers in the process.
The alarming footage was posted to TikTok on Sunday by Connor Seitz, known as cseitz2281 on the video-sharing platform.
It was filmed at Panama City Beach in northwest Florida.
The clip begins with a shot of the wider coastline before zooming in to show a shark approaching two swimmers.
Gradually, the shark gets closer and closer until it is within touching distance of one of the two beachgoers, who both remain unaware of its presence.
A voice on the video identifies the shark as a hammerhead.
"Oh my lord," he is heard saying.
"If she looked down right now she would be..." he adds before tailing off as the shark swims away from the woman being filmed.
The fearsome fish does not entirely retreat though, instead doubling back around and staying close to the unaware swimmers.
Another voice is then heard warning: "It's circling them," before the original narrator responds with a simple "oh s**t!"
The unsettling video has been viewed more than 11.4 million times on TikTok, garnering over 100,000 shares, 1.4 million likes and 18,500 comments.
Most fans thought it was probably for the best that the two swimmers remained unaware of how close they were to the shark.
Hayley_ferracci commented: "Honestly they are probably better off not knowing and being calm than knowing and flipping out."
Fellow TikTok user randomuserrachel agreed: "Them being oblivious was the best thing that could have happened."
Julesie1127 also wrote: "This is where the phrase 'ignorance is bliss' cannot be any truer."
For others, the video served as a reminder of why they stay out of the water.
As user682285771467421 put it: "This is exactly why I'm never going into the ocean."
Others, however, criticized the original poster for failing to alert the two swimmers to the potential danger.
One user, __brianna110, asked: "Why aren't you yelling at them there's a shark?"
Responding to criticism of their inaction, Connor wrote: "We didn't yell because we didn't want to cause them panic and potentially aggravate the shark, we were also on the 23rd floor."
He added: "They would never have heard us."
Another TikToker, peysche_, sought to clarify that this particular shark didn't pose a threat to the two swimmers.
"Hammer heads don't attack people," she wrote.
"It's common for this specific species to feed closer to the shore due to them feeding on prey at the bottom of the sea."
Those sentiments were echoed by jmurphy91, who wrote: "Hammerheads rarely attack humans. They frequent shallows looking for their natural food. This one realised human wasn't food and swam off."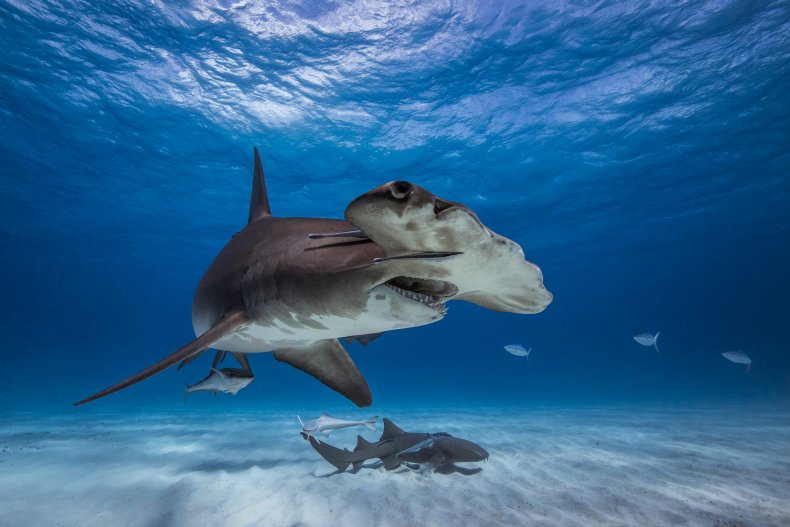 The footage comes just over a month after seven hammerheads were filmed circling sun-seekers at another beach in Florida.
In the video, at least four of the sharks can be seen gliding through the water close to where three women were floating on a raft.
The three women —Lacey Faciane, Casie Thompson and Qyuston Eubanks— and several other onlookers claim to have seen seven sharks in total.
The incident took place in the water off a beach near Pensacola, Florida, over the Memorial Day weekend.
According to National Geographic, most hammerhead species are reasonably small and largely harmless to humans.
However, the larger great hammerhead can potentially be dangerous to swimmers even though attacks remain extremely rare.
Newsweek has reached out to Connor Seitz for comment.