Terrifying Video Shows Suspended Swimming Pool Violently Collapsing, Flooding Garage Below
A video circulating on social media features a suspended swimming pool abruptly collapsing and flooding a parking garage below.
The incident took place in Vitória, Brazil, on April 22 around 10 p.m. local time, according to a timestamp in the CCTV footage. The video starts with a narrow lap pool surrounded by plants and flood lights, with no people visible. Suddenly, the bottom of the pool gives out and the water drops through in one motion. It's a clean break; the rectangular bottom of the pool falls completely, with barely any of the pool's blue-tiled bottom remaining attached to its container.
The video transitions to footage of the parking garage below the pool, which is suddenly flooded with water, stone and other building materials.
The deluge of pool water jetting into the garage is so forceful that a parked car in it is propelled a few feet forward. No people are seen in the garage.
"No residents were injured," according to Reddit user leandroas. "The building had to be evacuated after the incident. The building was built in 2018 and the construction company is paying the hotel cost for the 270 residents, they will be able to return to the building on the 27th."
leandroas' post of the video has over 1,300 Reddit comments as of Saturday morning, many of them remarking on the pool's apparent lack of a rebar, a steel bar that would reinforce the concrete structure of the pool.
"If the rebar is not properly encased it means that the concrete is not reinforced properly," Rick Chaney wrote for Hunker. "There could also be relective cracking if the rebar is not securely tied."
Reddit user level 2uptokesforall commented, "The lack of rebar tells me that construction company cut a lotta corners. No surprise the failure occurred so early in the building service life."
"Near the end of the video, I can see a rod rolling, that could be the rebar. I cant imagine that a pool could be on top of a slab without any reinforcement if the engineers calculated for the load that pool adds according to codes," commented user Bllloodyhell.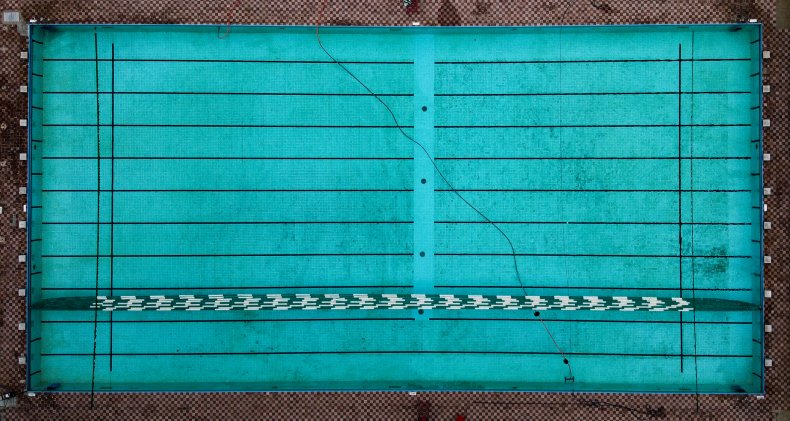 In another Reddit comment, user Larakj said: "Legitimately how often is a swimming pool built above the parking garage? Thankful it wasn't on the top of the building."
Reddit user potentialnamebusines added: "This is why I will never go into a pool that is suspended midair."
Newsweek has reached out to leandroas for additional comment.