Terrifying Video Shows Tourist Dangling, Falling From Ski Lift
Social media footage has captured the moment a tourist dangling from a ski lift in northern China plunges several dozen feet to the ground after a rescuer loses grip on his coat.
The skier, who was identified only by the surname Wang, slipped from the crowded chairlift on Monday and was taken to hospital with no critical injuries, an official said.
Footage circulating on Weibo, China's Twitter-like microblogging website, shows Wang hanging below the stopped ski lift while one of the four other passengers holds onto his red jacket.
The video taken at Wanlong ski resort in Zhangjiakou's Chongli district, which is in Hebei province roughly 120 miles northwest of Beijing, then shows staff members climbing up the chairlift in an attempt to reach the stranded visitor.
However, moments before the rescuers reach Wang, he falls from below the chair as his coat slips from other passenger's hands.
Wang suffered non-life-threatening injuries and was taken to a local hospital for treatment, Wanlong—one of seven major ski resorts in the area—said in a statement shortly after the incident.
The extent of the skier's injuries was not disclosed.
An unnamed official quoted in short-video news outlet Feidian said Wang had been changing seats on the moving chairlift when he sat on another passenger's lap and slipped off the transport.
The official with the district market supervision authority said inspectors found no issues with the ski resort's aerial lift, adding that visitors would be reminded of the proper way to use the ski lift.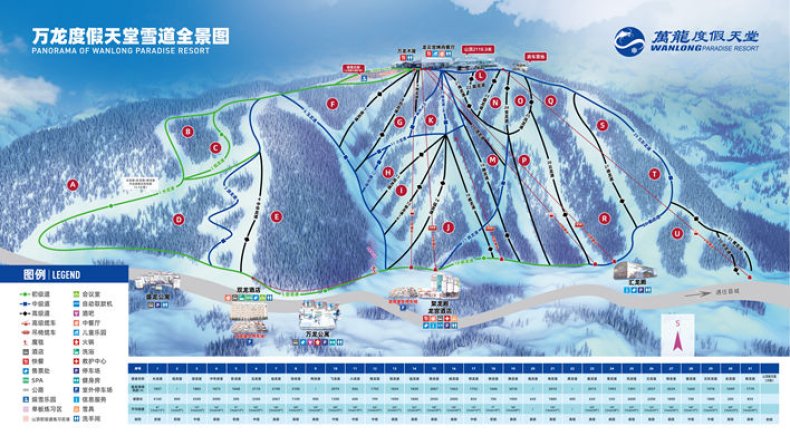 He did not address questions about whether the chairlift's five passengers meant it was overcrowded at the time of the accident. He stressed that Wang's injuries were minor but did not say whether he was kept for further observations.
It was also unclear at the time of writing whether Wang would be seeking compensation from the ski resort over the incident.
In January, police in Chongli district opened an inquiry into one of the seven other ski resorts in the area after a tourist tripped on an exposed cable and suffered fatal head injuries during a hard fall.
A statement by Yunding resort said the experienced male skier had run into the exposed equipment roughly 300 feet after stepping off a chairlift onto the snowy slope.
He was pronounced dead at a local hospital two hours later, said Yunding, one of the most popular skiing venues in the area.