Terror As Delta Plane Forced to U-Turn Mid-Atlantic Over Fuel Emergency
A YouTuber and content creator has shared his experience of the terrifying moment onboard a transatlantic flight when a fuel issue caused the plane to make a U-turn over the Atlantic Ocean.
Xiaoma—real name Arieh Smith—shared a video on Wednesday with more than 5 million subscribers on his YouTube channel xiaomanyc. In it, Smith recounted how Delta Airlines flight DL9923 from JFK to Kotoka International Airport in Accra, Ghana on July 24 was forced to turn around mid-flight.
As Smith recounts what he calls as "the scariest day of my life," he inputs footage taken during the flight and explains what happened.
The 10-hour non-stop flight from New York's JFK airport was due to leave at midnight. After an initial flight delay announcement, the passengers were later told that the captain of the plane had fallen ill and the airline was rescheduling the flight.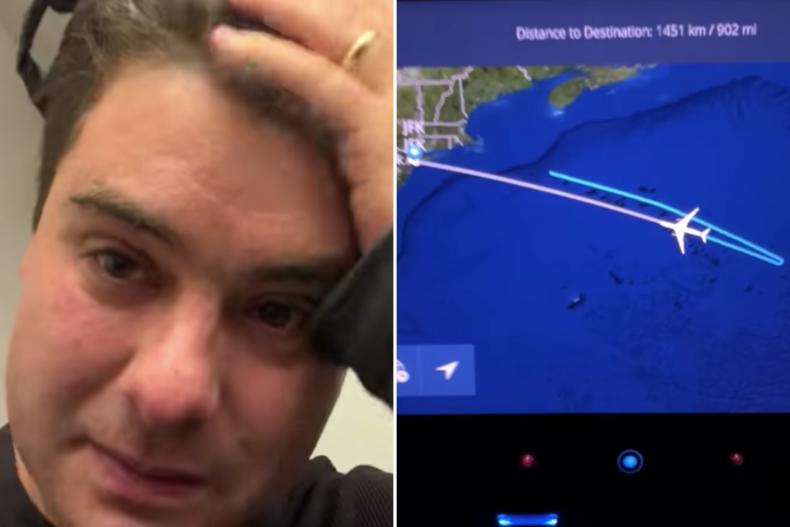 Smith headed home and back to the airport the next day to board the re-arranged flight. After thunderstorms prevented the plane from taking off for an hour, the aircraft finally began its journey across the Atlantic.
Two-and-a-half hours into the flight, Smith noticed the captain had walked down the aisle and was looking out of the window at the wing of the plane. He recounted on YouTube: "This is causing a bit of a stir, I remember saying to the guy sitting next to me 'this doesn't look good.'"
It wasn't until 30 minutes later that an announcement was made from the flight deck. The captain told passengers that they had a fuel issue. Midway over the Atlantic Ocean, he explained that they would need to return to New York.
Delta airlines confirmed: "DL9923 was returned to JFK out of an abundance of caution due to a fuel imbalance in-flight. An emergency was declared on arrival at JFK to obtain priority handling from air traffic control."
Smith told Newsweek: "I'm really grateful that it all worked out. But in the moment, I was just thinking like, well, you know, these are my last moments on Earth, I better say something to my wife."
"The biggest thing in that moment is just like we didn't really have clarity around what the actual issue was," recalled Smith. "It was really the most nail-biting two hours I've ever experienced in my life."
"People were understandably freaking out," he explained. "The woman next to me had her Koran out, praying. People were just like, whispering, talking to each other, and praying. There's nothing you can even do at that point."
Smith began filming. In a piece to camera, he said: "I hope everything's OK with this flight. It'd be really great to be able to hold my baby again. I really hope I'm overreacting here. I'm sure I am."
When the flight finally reached New York, the captain told passengers that they were set for a normal landing. When they touched down, Smith recalls the feeling of relief as fire trucks and ambulances surrounded the plane.
A spokesperson for Delta told Newsweek: "Delta flight DL9923 on July 25, en route from New York-JFK to Accra, returned to New York-JFK out of an abundance of caution due to operational reasons. The flight landed safely and customers deplaned as normal. The safety and security of Delta's passengers and crew is Delta's number one priority. Delta's customer support teams at JFK were engaged on the ground to assist affected customers and Delta deeply apologizes for the inconvenience and delay of their planned travel."
As a result of Smith's huge online following, the captain recognized him as he was leaving the plane and allowed him into the cockpit for a conversation about what happened, which Smith shared.
In the footage, the captain explains that a fuel imbalance caused the problem during the flight as he shows various fuel gauges in the cockpit.
Airplane manufacturer Boeing explains that: "In-flight fuel imbalance occurs when the quantity of fuel between the fuel tanks in the left and right wings is unequal."
Boeing says that a fuel imbalance can occur for many reasons, including acceptable variations in the performance of fuel system components, variations in engine fuel burn characteristics, faults in internal fuel system components or fuel system or structural faults that cause fuel to leak overboard.
Smith recalled: "The biggest thing about that for me was after that little moment we recorded, I looked into his eyes and asked him like, 'Would this have been bad?' and he had this very serious look on his face and he said, 'Yes, it would have been very bad.'"