Teen Shot Dead in Muslim-Majority Russian Region After 'Terrorism Attempt'
Police in Russia shot dead a 16-year-old boy in the Muslim-majority Tatarstan region after he tried to set fire to a local police station and stabbed a police officer, Russian investigators said on Friday.
Russia's Investigative Committee, which handles major crimes, said in a statement it was treating the incident as an attempted act of terrorism. It has opened a criminal case. The incident, which happened just after midnight local time, left an officer in hospital with non-life-threatening knife wounds.
According to an official statement by investigators, the teenager allegedly threw at least two Molotov cocktails in the direction of the local police station in Kukmor, 75 miles east from the regional capital Kazan, in an attempt to set it alight. He then "attempted to run away" before being apprehended by a group of officers, investigators said. The boy stabbed a police officer at last three times during an arrest attempt, the statement said.
Another police officer had fired warning shots into the air before being forced to open fire, it said, saying the unnamed teenager had died of his wounds before medics could arrive on the scene. Investigators have opened a case into an "attempted terrorist act" and "encroachment on the life of a law enforcement officer", the committee said.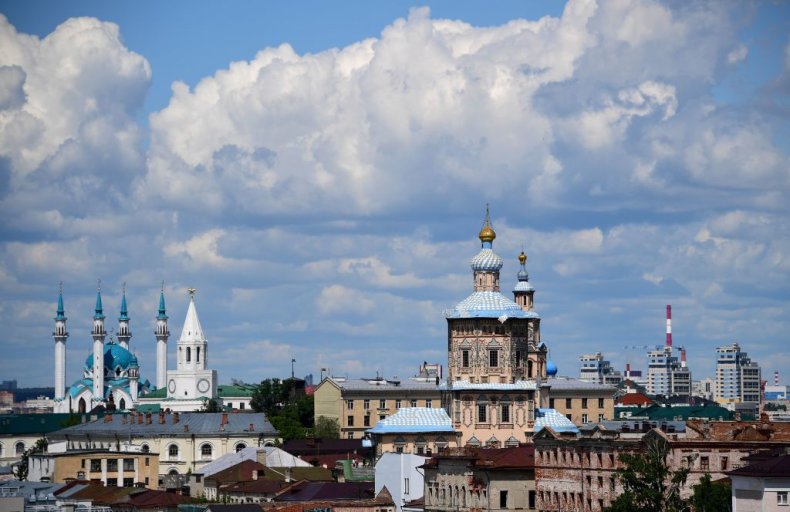 The incident comes a day after three people were killed in an attack in the southern French city of Nice which President Emmanuel Macron said was an "Islamist terrorist attack". Two died inside the church, a 60-year-old woman who was "virtually beheaded", and a 55-year-old man whose throat was cut.
Another woman, aged 44, fled to a nearby cafe with multiple stab wounds but died shortly afterward. "Tell my children that I love them," she told those who tried to help her, according to French media. Two other attacks took place later on Thursday, one in France and one in Saudi Arabia.
A man was shot dead in Montfavet near the southern French city of Avignon after threatening police with a handgun. While a guard was attacked outside the French consulate in Jeddah in Saudi Arabia. A suspect was arrested and the guard taken to hospital. Governments around the world have condemned the Nice church attack, including France's European neighbors, the U.S., Turkey, Egypt, Qatar, and Lebanon.
The terrorist threat level in France is as high now as it was in 2015 and 2016, following the Charlie Hebdo, Bataclan and Nice lorry attacks and the murder of Jacques Hamel, 85, a beloved French priest, who was killed in his church in Normandy.