At least 26 people were killed and more than 50 others injured Friday after Shabaab militants stormed a hotel in the southeastern port city of Kismayo, Somalia.
Somali forces announced an end the hours-long siege on the Asasey Hotel on Saturday morning. According to the Associated Press, the attacks started with a detonated car bomb at the entrance gate and was quickly followed by heavily armed gunmen making their way through the hotel's fortifications. After more than 14-hours of bloodshed, Somali troops shot down at least four assailants and captured another, Jubbaland's ministry of telecommunications confirmed.
Those killed in the attacks include two Americans, at least one Canadian, three Tanzanians and at least one Briton. The condition and nationality of those injured was not immediately clear.
al-Shabaab, a jihadist group linked to al-Qaeda, claimed responsibility for the attacks in online statements. The East Africa-based group has been waging an ongoing effort to dismantle the Somali government and was pushed out of Kismayo in 2012, Al Jazeera reported.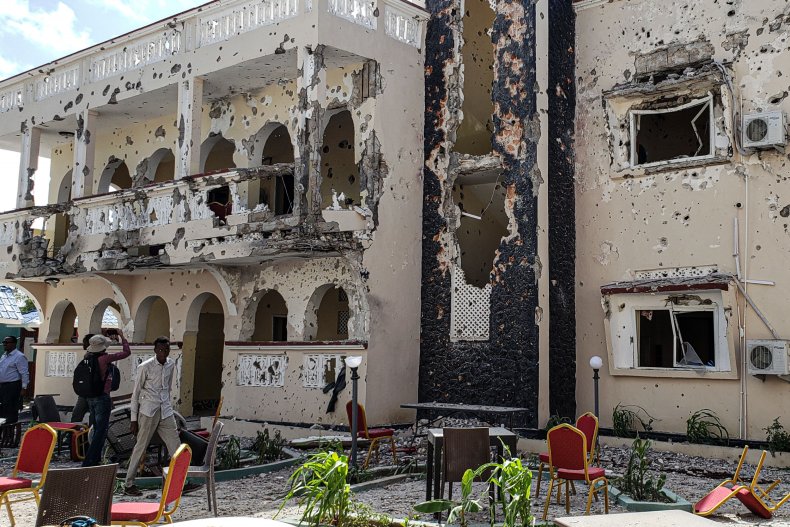 The U.S Mission to Somalia issued a statement Saturday morning, vowing to work with local and international leaders in the aftermath of the attack.
"The United States mission to Somalia extends our sincere condolences to the friends and families of the victims killed in the attacks in Kismayo and wish the injured a speedy recovery," the statement read. "We condemn these attacks and will continue t work with our Somali and international partners in the fight against violent extremism in Somalia."
Two journalists were among those killed in the terror plot, the National Union of Somali Journalists confirmed. The organization issued tributes to SBC-TV reporter Mohamed Sahal Omar and Integration TV founder and Youtube star Hodan Nalayeh.
"We mourn the senseless deaths of our two colleagues, Mohamed Sahal and Hodan Nalayeh, who were both murdered in a cowardly and senseless terrorist attack," Omar Faruk Osman, the group's secretary general said in a statement. "NUSOJ extends its deepest condolences to the families of Mohamed and Hodan, and to our professional colleagues in Kismayo for this terrible tragedy."
Omar Suleiman, a Texas-based lecturer and imam, said he was "devastated" by the news of Nalayeh's death in an online tribute.
"Devastated by the news of the death of our dear sister Hodan Nalayeh and her husband in a terrorist attack in Somalia today," Suleiman wrote. "What a loss. Her beautiful spirit shined through her work and the way she treated people. May Allah shower them with His mercy."