Terrorist Group in Spain Apologizes to Victims After Decades of Bombings and Armed Struggle
The Basque separatist group ETA has apologized to its victims and the people it has hurt since it began waging a violent insurgency against Spain and France in the early 1960s.
The group, whose full name is Euzkadi Ta Askatasuna, which means Basque fatherland and freedom in the Basque language, began handing over its weapons and explosives in April of 2017 and plans to disband officially on the first weekend of May. The French government has played a large role in brokering the group's surrender, and in April ETA gave French authorities the coordinates of eight storage facilities containing its arms and explosives.
"ETA, the Basque socialist revolutionary organization for national liberation, wants to recognize through this declaration the damage it has caused through its armed struggle, and demonstrate its commitment to overcoming this conflict definitively so that it does not repeat itself," the group said in a statement released Friday in the Basque newspaper Gara.
"We are conscious that in this long period of struggle, we have created a lot of pain, including damages for which there is no solution. We wish to show our respect for the dead, the injured, and the victims that were created by ETA's actions. We truly apologize," the statement noted.
"Over the decades, many of our people have suffered: people have died, been injured, tortured, been kidnaped, and been forced to flee abroad. ETA recognizes its direct responsibility for this pain….ETA's errors and bad decisions have also created victims that did not participate directly in the conflict, both in the Basque country and outside of it," the group said.
The group said it recognizes that many people would always see its actions as "unacceptable and unjust," but also said that the actions of Spanish state forces "under the guise of the law" can also be viewed as wrong.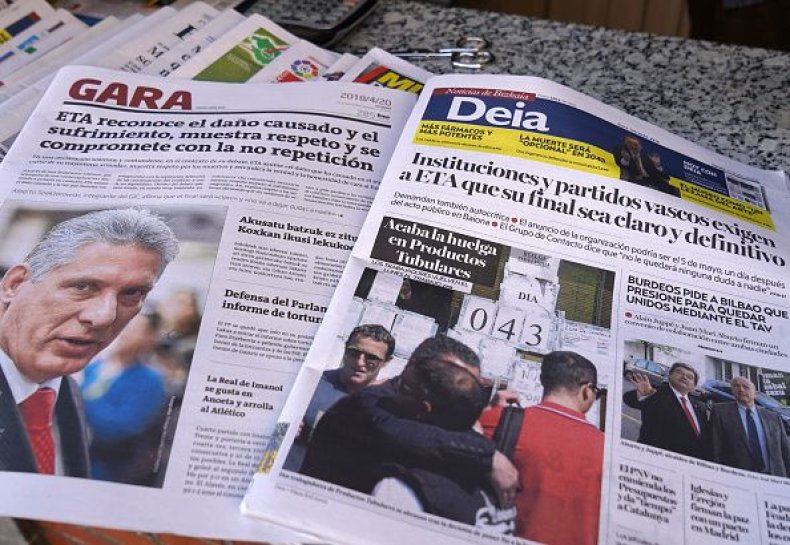 Over the years, ETA has been responsible for some of the worst terror attacks on Spanish soil. The group's first victim was Melitón Manzanas, a top official for the secret police of Spain's fascist dictator Francisco Franco. ETA assassinated Manzanas, who was known for torturing detainees, in 1968. In the years since, the group killed almost 900 people, including members of Spain's civil guard, police and civilians.
The Basque region, located in parts of northern Spain and southern France, has its own language and culture. ETA's dissolution marks an end to one of Europe's last armed insurgencies, and the conclusion to the Basque people's armed struggle for independence.