A Terrorist Lingers in Plain Sight. Why Is She Still Free? | Opinion
I didn't hear the massive explosion. Nor, despite both of us being in Jerusalem when it happened, did my wife. She was at home looking after our youngest child and watching a TV news bulletin when the first reports flashed across her screen. I was at work.
Twenty-one years ago, an explosives-filled guitar case slung across the shoulder of a male in his 20s erupted with a ferocious roar and decapitated him. A photo of the head in the debris was snapped by someone but never, as far as I know, appeared on any news platform.
The gruesome image was sent to me much later. By then, the impact of what happened that hot school-vacation afternoon in a bustling, child-filled Sbarro pizzeria in the center of Israel's capital city had receded into the distance.
But not for us or the other families and friends of the victims.
Fifteen innocents were murdered and 130 more were injured, some catastrophically, in the massacre. A young mother lunching with her two-year old was struck in the head by shrapnel; she's not counted in the death toll but has remained comatose in all the years since. Her child, thankfully unharmed in the atrocity, is herself a mother today.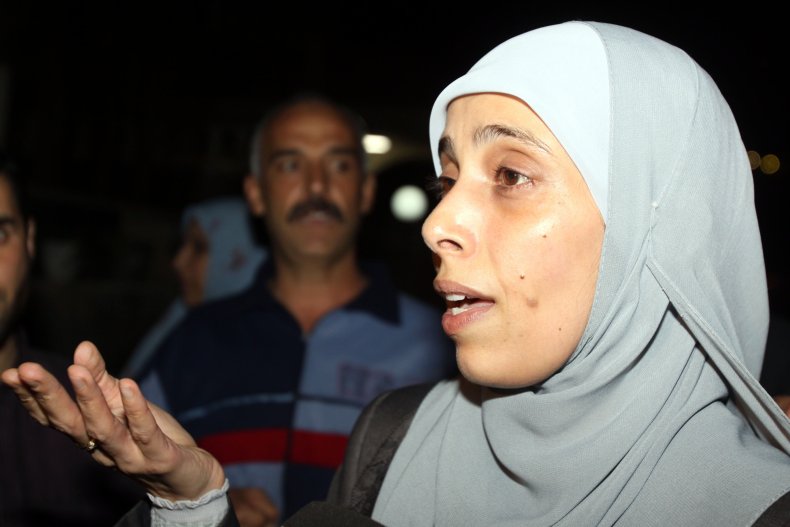 Among those murdered was a tourist from New Jersey, her parents' only child, a beloved school-teacher who was expecting her first baby.
Another was my sunny 15-year-old daughter, Malki, who was standing at the counter with her closest friend Michal, the daughter of the young widow who lived near us. The two girls, buried in adjacent graves, are honored every year in a joint memorial ceremony to be held Aug. 17.
The pregnant tourist, the woman still in a coma and my daughter were all U.S. nationals. That became important when, a decade later, the Jordanian woman responsible for the bomb at the pizzeria, who scouted central Jerusalem and selected the target site because of the many children inside, who later called the carnage "my operation," was shockingly set free.
That woman's name is Ahlam Ahmad Tamimi. As a college student of 21 working evening hours as a TV newsreader, she became the first female accepted into the ranks of its killers by Hamas.
On Aug. 9, 2001, moments after accompanying her human bomb to the target, and minutes before the devastating blast, she fled by public transport to nearby Ramallah. She was primly seated there on the news set in time to announce the day's violent centerpiece in a grave voice—but with no hint of her personal role.
Tamimi was arrested weeks later and eventually tried and convicted in an Israeli court. The panel of three judges made a strong recommendation that she never be released. But eight years later, as we watched horrified and helpless, she walked free.
She was one of more than a thousand convicted Palestinian Arab prisoners traded to secure the freedom of Gilad Shalit, an Israeli hostage held for years in Gaza.
Weeks after her triumphant return to Jordan, the U.S. Department of Justice enters the narrative because of a federal law that compels the United States to go after any terrorist who causes the death of an American national in a foreign country.
Tamimi, by then the slick presenter of her own weekly made-in-Jordan global TV show advocating for terror and terrorists, was charged under that law in 2013. But the criminal complaint (like an indictment) was immediately sealed at the request of the United States. It was only four years later, on March 14, 2017, that the existence of those charges against her was made public by senior government figures in Washington.
And six days after that, Jordan's highest appellate court intervened. It ruled that, charges or no charges, Jordan would not hand the mass murderer over to the FBI because the extradition treaty made in 1995 by Jordan and the Clinton administration was invalid. No news platform tells it this way but the flaw, if it exists, is entirely a Jordanian flaw. On any view it could have been repaired, if repair was needed, by Jordan every day since 1995. But a State Department website makes plain for anyone wondering that the treaty is in full force and effect.
Tamimi lives free in Jordan today, as she has since 2011. That TV show ran for five years and was widely viewed wherever in the world there are Arabic-speaking audiences. It made her a star.
Until the DOJ charges were announced, she traveled to wherever in the Arab world there were audiences wanting to embrace her message and attend her rallies. In Arab-world terms, she has extraordinary prominence for a woman who is neither an entertainer nor some potentate's wife.
Tamimi has not been in hiding for a day in all that time. Her home address is no secret. This is noteworthy because the Rewards for Justice office at the State Department put a $5 million prize of on her head in 2018. No one has collected it.
Jordan, a tightly run monarchy, is a notably unfree society. Freedom House calls its media laws "restrictive, vague, and arbitrarily enforced". If your message to the world finds disfavor in the eyes of the Hashemite palace, you will likely be shut down. But Tamimi's TV show went on for years. There are no signs it ran into Jordanian government interference.
Jordan faces a range of enormous challenges with which, to a remarkably generous extent, the U.S. helps it cope. Jordan is the world's second-largest recipient of U.S. taxpayer-funds received as aid. King Abdullah II, who has ruled since 1999 is a frequent welcome visitor to the Congress and the White House. U.S. leaders including President Biden, praise him lavishly.
My perspective on these aspects is narrow. The person who took my Malki's life and brags about it is kept safe from U.S. justice by someone Biden calls "a stalwart ally in a tough neighborhood... You have always been there, and we will always be there for Jordan".
The multiple efforts my wife and I have made to engage with the White House, with Secretary of State Antony Blinken and with the State Department have not gone well. In July, when the president was about to arrive in Jerusalem, we sent him a letter asking to be heard as the parents of an American child blown to pieces by America's most wanted female fugitive. The White House didn't answer us then or since. But it did tell Associated Press that there would be no response to the Roths.
Something is seriously dysfunctional if American justice can get this badly derailed. Tamimi is one of only two females on the FBI Most Wanted Terrorists list—a fugitive whose whereabouts everyone knows. Her prosecution under US law isn't about things she says or believes. It has to do with dead children.
We aren't in this for the politics because it's abundantly clear our cause has been demeaned by Republicans and Democrats to the same appalling extent.
If thwarted pursuits of justice can be more clear-cut than this one, it's hard to imagine how. As Malki's parents, we don't ask for favors, understanding or pity. We simply want justice, years too late, to finally be done.
Arnold Roth, an attorney and technology business manager, serves as honorary chair of the Malki Foundation which he and his wife Frimet established in 2001. Its work honors the memory of their daughter Malki, murdered in a terrorist attack on the Sbarro pizza shop in the center of Jerusalem.
The views expressed in this article are the writer's own.
CORRECTION: An earlier version of this article misstated the date of the memorial ceremony. It is scheduled to be held Aug. 17.