Out of all of the episodes of Brooklyn Nine-Nine Terry Crews starred in, he has revealed that his favorite comes from the first season.
The athlete turned actor, presenter and author is one of the most versatile men in the entertainment industry today, but he reached a new level of fame when he joined the cast of Andy Samberg's police-based sitcom in 2013 as Sergeant Terry Jeffords.
Crews is now releasing his second book, Tough: My Journey to True Power. Ahead of its launch, he took the time to speak to Newsweek about a range of topics, including what is, in his opinion, the best ever episode of Brooklyn Nine-Nine.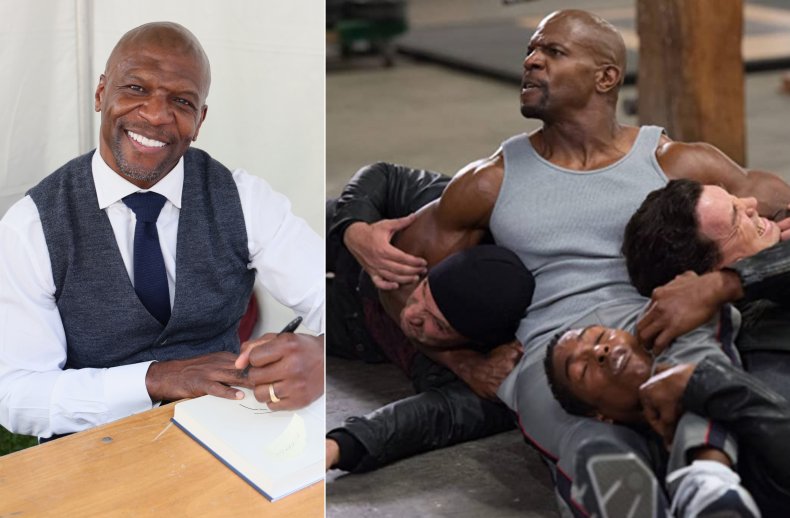 Terry Crews' favorite episode
Coming to an end in September 2021, Brooklyn Nine-Nine wrapped up eight seasons of television that spanned eight years, two television networks and a total of 153 episodes.
With so many options to choose from, it's perhaps a little surprising that his favorite episode came in the first season.
Season 1 Episode 14 "The Ebony Falcon" is Crews' favorite Brooklyn Nine-Nine episode. It's "all about my character moving past my trauma and getting back into fieldwork. It was beautiful," Crews told Newsweek.
The episode in question, written by Prentice Penny and directed by Michael Blieden, features Crews' character Terry working closely with Jake Peralta (Samberg) and Charles Boyle (Joe Lo Truglio) to investigate a steroid trafficking operation in a gym. The story also delves into Terry's past as the titular "Ebony Falcon" in order to infiltrate the criminal organization.
While "The Ebony Falcon" may be Crews' favorite episode, there are dozens more rated higher by the fans. The highest-rated episode on IMDB is Season 5 Episode 14 "The Box." This episode is a self-contained piece featuring Jake and Holt (Andrew Braugher) interrogating a character played by Sterling K. Brown. Brown was also nominated for a Primetime Emmy Award for his performance.
Tough: My Journey to True Power
Crews' latest book is an extremely candid memoir sharing previously untold details of his life.
Tough: My Journey to True Power chronicles Crews' interactions with gang leaders in his hometown of Flint, Michigan, his years of dealing with childhood poverty, and how he used to witness his father abusing his mother. It also touches upon his decades-long battle with anger issues, his pornography addiction, and how he finally hit rock bottom both personally and professionally.
"In writing this book, I had to show how far I've come," Crews told Newsweek. "It does no good to say 'I was already a great guy, and I got a little bit better.' That's not what happened and I had to be real about what I've been through."
During his wide-ranging discussion with Newsweek promoting the book, he also touched on the infamous moment at the recent Academy Awards involving Will Smith and Chris Rock. He admitted he can relate to both men as he's been in situations similar to both of them in that moment.