Terry McAuliffe Frustrated With D.C. Dems as Infrastructure Stalls Amid Virginia Governor Race
Terry McAuliffe, a former Democratic governor from Virginia who is seeking another term, criticized Congress Sunday for the stalemate in passing the infrastructure bill that has been championed by President Joe Biden and won approval in the Senate in August.
"Why haven't we passed this infrastructure bill? It passed the U.S. Senate with 69 votes two months ago. I have been very straight on television: we're tired of the chitty chat up in Washington. Get in a room, and get this figured out," he said during an interview on CNN's State of the Union.
"I'm traveling all over Virginia. They're worried about minimum wage, they want child care, they want elderly care, they want to see paid sick leave, family and medical leave...They want them to get their job done. They're paid to get up in Washington, get this done, and the frustration is why isn't it done by now," he added.
McAuliffe's comments come as Virginia's gubernatorial race has tightened in recent weeks. An Emerson College poll released Thursday shows the former governor with only a one-point lead over his Republican opponent, Glenn Youngkin, with just weeks until the November election.
Last week, during a call with supporters, McAuliffe said that his campaign was facing "headwinds" as President Joe Biden is enjoying less popularity.
"We are facing a lot of headwinds from Washington, as you know. The president is unpopular today unfortunately here in Virginia, so we have got to plow through," McAuliffe said.
Biden's approval rating has dropped in recent weeks. A Quinnipiac University poll on Thursday put it at 38 percent—his lowest since taking office in January.
During his interview on CNN Sunday, host Dana Bash noted that McAuliffe didn't specifically mention Democrats when he was criticizing inaction in Congress.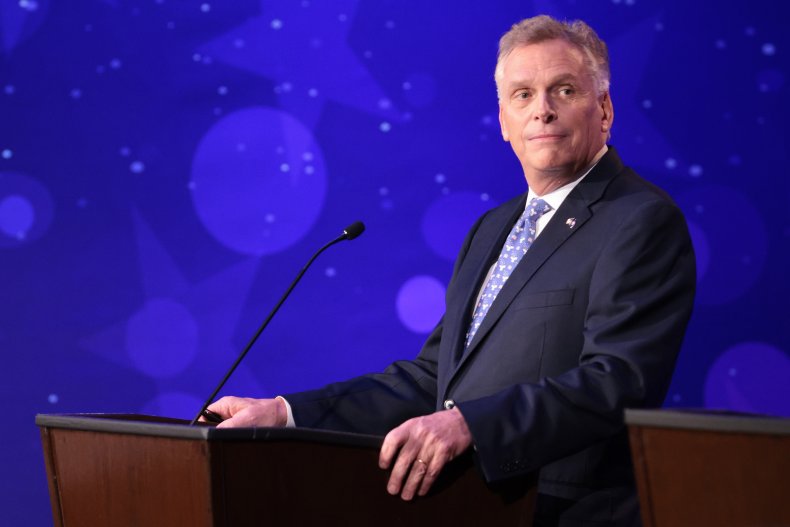 "As you well know, you're talking about the Democratic president you helped elect and Democratic-controlled Congress," Bash said. "So you're frustrated with your own party."
"You bet I'm frustrated," McAuliffe responded.
Bash then asked McAuliffe if he felt Washington Democrats are "dragging him down."
"It's not dragging me down. I worry about the people of Virginia who want family and medical leave, you know, I want to raise the minimum wage," McAuliffe said.
"Is it making it harder for you?" Bash asked.
"Hard or not, people understand what I'm doing, my plans...so they're going to vote for me. But there is frustration all over the country," the former Virginia governor stated.
"We just want action."