Terry McAuliffe Holds Slim Lead in Polls 3 Weeks Before Virginia's Gubernatorial Election
With three weeks remaining until Virginians decide who will be their next governor, recent polling suggests Democrat Terry McAuliffe is holding a slight lead in the race against Republican Glenn Youngkin.
McAuliffe, who has served as Virginia's governor once before, was as of October 8 leading Youngkin in the polls by an average of 2.5 percent, according to polling averages compiled by FiveThirtyEight. Polls conducted since early September have found the gap between McAuliffe and Youngkin as wide as 9 points, while a couple of surveys have found the candidates tied among the state's likely voters.
The November 2 election, one of 2021's two regularly scheduled gubernatorial races, is shaping up to be a close contest as McAuliffe and Youngkin battle to succeed Governor Ralph Northam. In recent weeks, some political strategists have identified the election as one that will likely signify how the 2022 midterms might turn out as President Joe Biden tries to keep Democratic majorities in the House and Senate.
Northam, a Democrat, has served as the state's governor since 2018. McAuliffe was governor during the preceding term but was blocked from running for re-election, as Virginia does not allow governors two consecutive terms.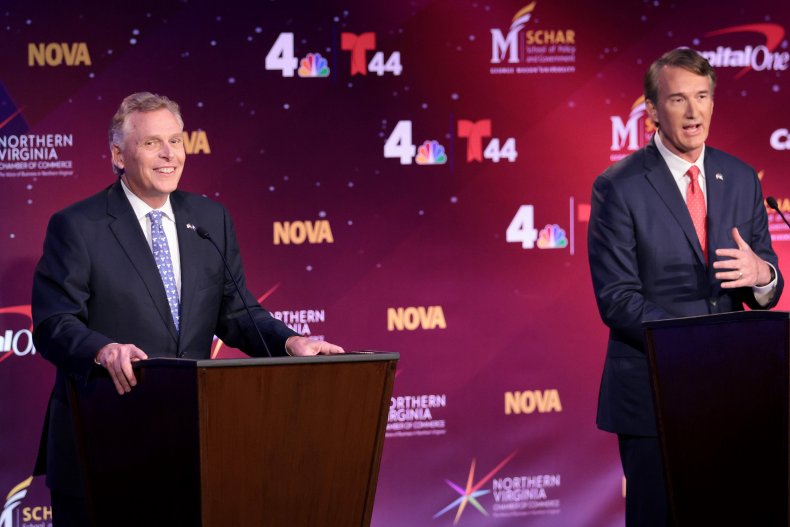 McAuliffe identifies himself on his campaign website as a "lifelong entrepreneur and proud Democrat." He started in politics by working for former President Jimmy Carter's campaign and became chair of the Democratic National Committee in the early 2000s before winning Virginia's 2013 gubernatorial election.
Before launching his gubernatorial campaign, Youngkin worked for 25 years at the Carlyle Group, a global investment company from which he retired as co-CEO in mid-2020. Youngkin identifies himself as "an outsider who is trusted and who can bring people together around our shared values" and says on his campaign website he is "answering the call to serve his community."
In early October, a poll conducted by Emerson College found McAuliffe and Youngkin tied among the likely voters surveyed. But polls conducted in late September and early October from Christopher Newport University and Fox News indicated McAuliffe was 4 points ahead of Youngkin, and earlier polls by Monmouth University, Public Policy Polling and George Mason University said the distance between the two candidates ranged between 3 and 5 points.
With just three weeks remaining until the election, McAuliffe this week listed a handful of high-profile Democrats who will soon join him on the campaign trail to encourage voter turnout. On Tuesday, he said during an appearance on MSNBC's Morning Joe that former President Barack Obama will join him at a campaign event in Richmond on October 23. First lady Jill Biden is expected to join McAuliffe in Henrico County on October 15, and Stacey Abrams is scheduled to travel to Norfolk on October 17 for a "Souls to the Polls" event.
The president has previously traveled to Virginia in support of McAuliffe's campaign and addressed the race in a tweet Tuesday morning that reminded Virginians of the state's impending voter registration deadline.
"Virginia: Last year, the people voted and democracy prevailed. We have to do it again and elect @TerryMcAuliffe as governor," Biden's tweet said. "Today is the last day to register to vote. Head to http://IWillVote.com/VA and make sure you're registered."