Man Arrested After 100mph Tesla Crash Causes 'Crazy Chaos,' Sends Car Parts Flying Into Homes
A driver crashed a Tesla travelling at more than 100 miles per hour in an Oregon city on Tuesday—causing a scene of "crazy chaos," according to one local resident.
Dylan Milota was driving a 2019 Tesla S in Corvallis when he "lost control" around 10:18 p.m., the city police department said. The vehicle veered off the road, sheared a power pole off at the base, and knocked over two trees and a telephone junction box.
The car, which was destroyed in the crash, came to a stop on an embankment after travelling more than 300 feet, police aid in a statement.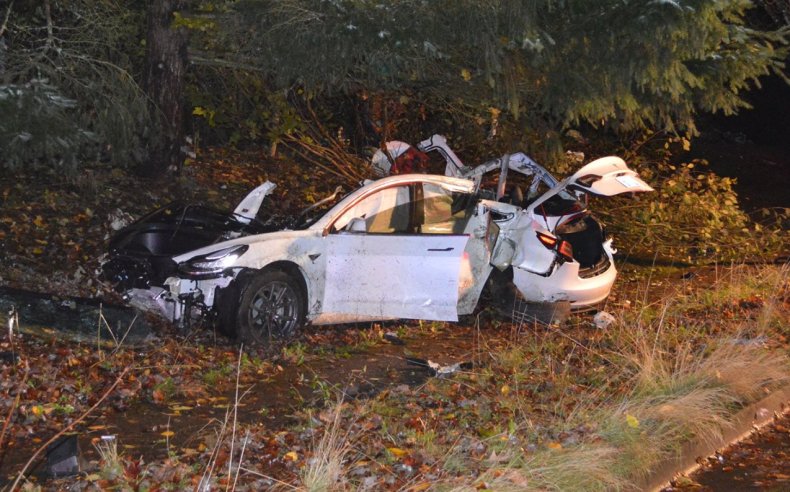 Milota managed to escape with only minor injuries. The 21-year-old allegedly tried to flee the scene on foot, but police found and arrested him around three blocks away.
The suspect was taken to a local hospital where medical staff treated his injuries. Police said Milota was under the influence of marijuana at the time of the crash.
Batteries sent flying
As the Tesla sustained damage during the crash, hundreds of batteries were flung out of the electric vehicle. Two of them crashed through the windows of nearby homes.
"It was a real scary-looking wreck," nearby resident Jeffrey Bailes told FOX 12. "There were downed power lines everywhere. It's a lot of crazy chaos."
One of the batteries landed in the lap of another local, Everett Bazurto, leaving a burn mark on his arm and singeing his chair.
"I was just sitting in my chair watching television," Bazurto told FOX 12. "I jumped up because a piece of the car, it fell in here. I was fortunate [the wooden blinds] took the major blow."
The other battery that crashed through the window of a home landed on a bed, causing the bedding to catch fire, Corvallis police said.
In addition, a tire from the car smashed through the second storey wall of an apartment complex, destroying the bathroom and rupturing a water pipe, causing flooding.
Several batteries were collected by clean-up teams after the crash, but the Corvallis Police Department and Corvallis Fire Department said that some may still remain in the vicinity of the incident.
Officials warned locals that the batteries can release toxic fumes, which may be harmful to people and animals if inhaled. The batteries may also leak hazardous substances.
Milota faces charges of driving under the influence of marijuana, hit and run, criminal mischief, reckless driving and reckless endangering.