Is Tesla Better Off Without Elon Musk? Fraud Charge Brings Uncertain Future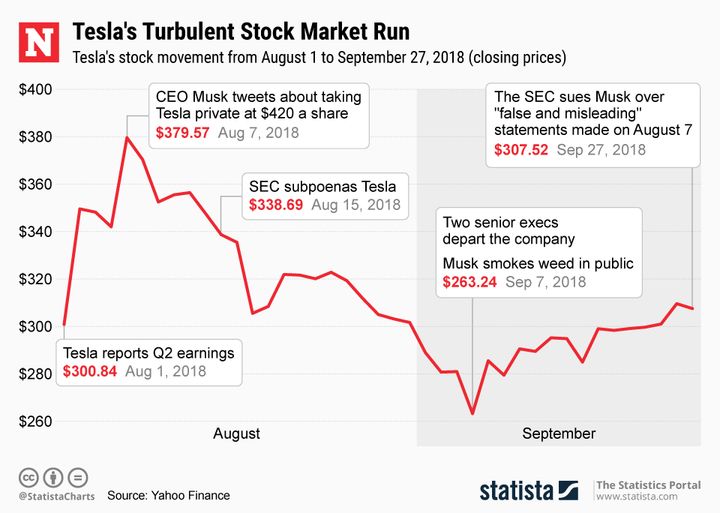 Tesla stock has tanked this week after the U.S. Security and Exchange Commission (SEC) moved ahead with a lawsuit against co-founder and chief executive Elon Musk.
The legal move allegedly came after a settlement with regulatory officials fell through at the last minute, with CNBC reporting that Musk and Tesla would have only been facing a financial penalty if such a deal could have been finalized. Instead, the SEC demanded blood. Ultimately, the agency appealed for Musk to be prohibited from running his own electric car company.
Figures compiled by Statista (above) show how turbulent Tesla's position in the market has been in recent months—with most major swings determined by Musk's own behavior. The graph shows a high around the time a fateful tweet claimed that funding had been "secured" to take the business private at $420 a share, to a low when the CEO was filmed smoking drugs.
On Thursday, shares fell as much as 13 percent after the SEC's fraud charges were filed. Officials said the August 7 "funding secured" tweet was central to its complaint. As reported, the SEC alleged Musk had not discussed terms of the deal with financial partners, staff or shareholders. The unexpected tweet "caused market chaos and harmed Tesla investors," the filing read.
Newsweek subscription offers >
Steven Peikin, co-director of the SEC, said during a press conference that Musk had chosen $420 "because of the significance of that number in marijuana culture, and his belief that his girlfriend would be amused by it." The complaint is solely focused on Musk, not Tesla.
Newsweek subscription offers >
As the dust settled on the announcement on Friday, commentators were asking if the CEO was even replaceable. After all, he had been the visionary behind the company for a decade and there are believed to be very few executives who could take up his role if it became necessary.
"There's a 50-50 chance Musk gets removed as CEO but there's a 95 percent chance that he stays at the company," Gene Munster, venture capitalist and known Tesla bull, told Bloomberg.
"I think the SEC lawsuit has scared people," he added. "This may give the board the backbone to put Musk in a visionary role. Shareholders want him to stay on as the visionary."
A Storm Ahead?
Munster told CNBC that Musk should stay in a "critical leadership role" in the company. He stated: "I think this will pass but its going to be quite a storm until we get to some calmer waters.
"I am taking the perspective of an investor who has a view of more than one year. For an investor who has a view of three months, I wouldn't know how to play or trade this. It feels like there's more negative news coming than positive, that would be my initial gut. I think that in time this will pass. But the trading is going to be a rollercoaster for the next few months."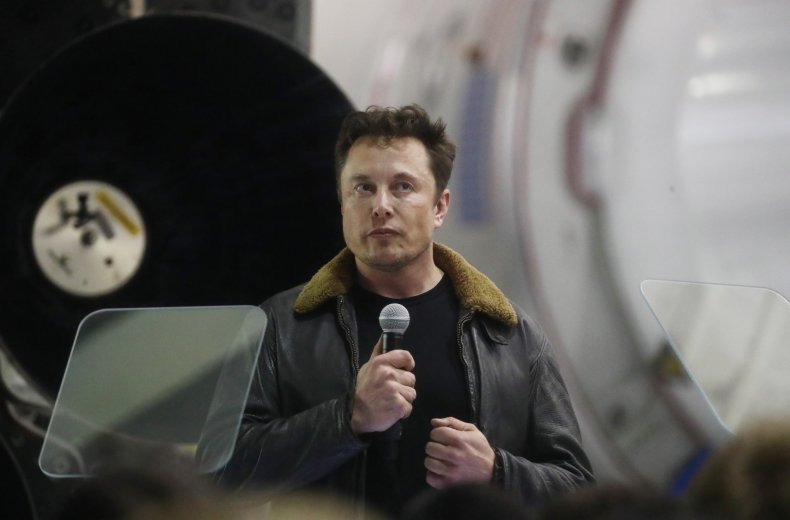 On the other side of the fence stood Bill Smith, president and CIO at Blaine Capital, who claimed on Thursday that Musk was a "liar" who "should have been gone a long time ago."
Musk himself told The New York Times only last month that he had no plans to step down as CEO. "If you have anyone who can do a better job, please let me know," he said. "They can have the job. Is there someone who can do the job better? They can have the reins right now."
In a statement, Tesla said that it remained fully confident in Elon's integrity and leadership. Meanwhile, Citigroup predicted a rocky road—with or without Musk leading the way.
"There's little question that Mr. Musk's departure would likely cause harm to Tesla's brand, stakeholder confidence and fundraising," an investors' note read. "If Musk ends up staying on, the reputational harm from this might still prevent the stock from immediately returning to normal."
Is Tesla Better Off Without Elon Musk? Fraud Charge Brings Uncertain Future | Tech & Science