Tesla CEO Elon Musk's unveiling of the artificial intelligence-powered humanoid Tesla Bot has sparked an avalanche of social media memes.
On Thursday the public was granted its first glimpse of the sleek and shiny Tesla humanoid, which reportedly stands 5ft 8in tall and weighs 125lbs.
At a lighthearted presentation made at the Tesla AI conference, Musk attempted to forestall any concerns humans may have about the life-size AI robot.
To the sounds of attendee laughter, Musk said: "It will be friendly, of course, and will navigate through a world built for humans, and it will eliminate dangerous, repetitive and boring tasks.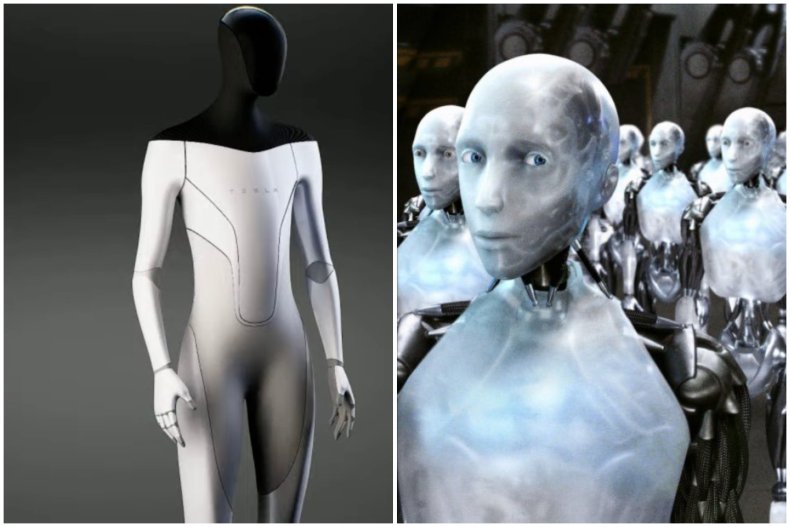 Then laughing a little himself, Musk added: "We are setting it so that at a mechanical and physical level, you can most likely overpower it."
The potent combination of concerns surrounding artificial intelligence and the prototype's unerring similarity to science fiction tropes proved irresistible to some social media users.
Twitter user Lawrence Terrell noted the apparent resemblance between the Tesla Bot and the machines featured in the dystopian 2004 movie I, Robot.
This theme was also picked up by Twitter user Cardoso, who questioned "Will Tesla Bot obey the 3 Laws of Robotics?" This is a reference to the I, Robot author Isaac Asimov, who suggested instructions to prevent machines from dangerously malfunctioning.
The Tesla Bot is intended to automate everyday life's more tedious tasks, creating a future in which physical work will become voluntary, not mandatory.
As a result, the AI machine, which has a purported 2022 release, is expected to have a carrying capacity of 45 pounds, a 5mph top speed and an ability to deadlift 150 pounds—significantly heavier than the average human.
This news led Twitter user Kiki Intarasuwan to quip: "So this stupid Tesla Bot can only deadlift 150lbs and can "run" 5 mph? Easy to kill lol."
Roberto Baldwin deadpanned: "So the Tesla Bot has the strength and speed of a zombie. Cool cool cool."
And filmmaker Mattson Tomlin, who is reportedly working on a new Terminator project, posted a Terminator 2: Judgment Day gif to accompany the statement: "Oh good a Tesla Bot, good. Good, good, good, gooooood."
Speaking at Tesla's AI Day, Musk described the robot as a logical progression for the electric car company.
He said: "Tesla is arguably the world's biggest robotics company, because our cars are semi-sentient robots on wheels.
"With the full self-driving computer, the inference engine on the car, which we'll keep evolving, obviously... neural nets, recognizing the world, understanding how to navigate through the world... it kinda makes sense to put that into a humanoid form."
Musk is also involved with reusable rocket company SpaceX, which is aiming to ferry crew and cargo to the moon, Mars and beyond in the coming years.
The billionaire is also the owner of California-based Neuralink, which is developing ultra-high bandwidth brain-machine interfaces in a bid to connect humans and computers.