Tesla's Cam Footage Shows Man Staging Being Hit by Car
A man said he was hit by a Tesla, only for the car's dash cam footage to reveal he had staged the whole thing, according to police.
Arthur Bates Jr. called 911 to report he was injured after being struck by the electric vehicle in a busy gas station parking lot outside New Orleans.
Police arrived at the 1400 block of Fremaux Avenue to find the 47-year-old man complaining of back, leg and neck injuries at about 4 p.m. local time on Friday September 3, the Slidell Police Department said.
Bates told officers the Tesla backed into him and caused him to fall to the pavement, adding that the driver fled the scene.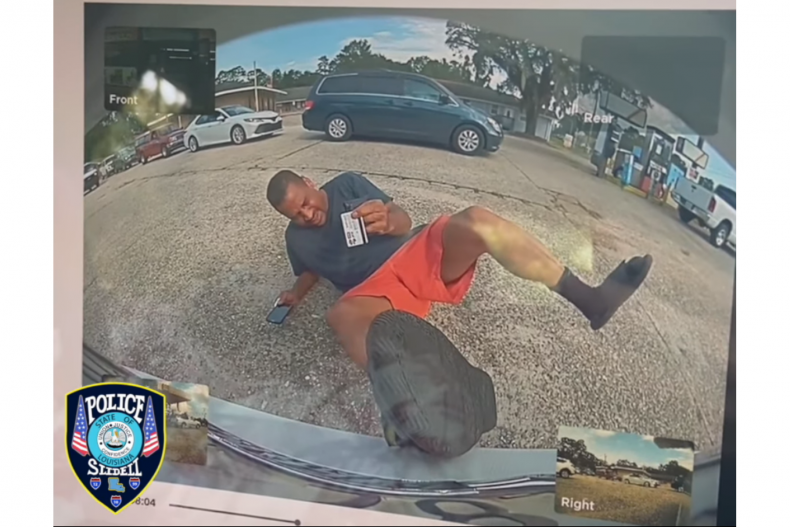 An ambulance and a fire truck was also dispatched to the scene, police said.
However, when officers tracked down the Tesla, the driver told them Bates had intentionally jumped behind his vehicle and staged the accident.
After reviewing the Tesla's dash cam footage, police said it "became apparent that Bates was lying and staged the entire event" in a statement released over the department's Facebook page on Monday.
Police uploaded a 38-second clip from the incident showing what appears to be Bates walking up the car before seeming to purposely fall to the ground and hold his legs in the air for about five seconds.
Another unidentified man can be seen approaching Bates before slapping his foot off the car. A brief verbal exchange appears to have taken place although it is not apparent what was was said between the two men.
Bates then sits upright on the pavement as the Tesla backs away.
The 47-year-old later admitted to fabricating the entire event and was arrested by officers from the Slidell Police Department for falsifying a police report and "false swearing with the intent to cause an emergency response."
Footage of the staged crash has since been viewed 92,000 times, prompting outrage from many New Orleans residents.
"How pathetic this truly is knowing that our LEO's have to answer a call such as this after being pushed and pulled in so many directions handling REAL problems, (Hurricane Ida) victims who have been displaced, no food/water, electricity, no home to return to for some," one woman replied. "Then you have this parasitic behavior looking to sue with no regard for no one else who is truly suffering."
"He picked the wrong car," another woman added as others noted how the Tesla is known for its sophisticated technology, including up to eight camera lenses that can point and record from multiple directions.