The driver of a brand-new Tesla Model S Plaid barely escaped after the vehicle burst into flames just days after it was delivered, according to an attorney for the driver.
Tesla CEO Elon Musk touted the Model S vehicle, which was launched in June, as "faster than any Porsche, safer than any Volvo." However, the driver of the new $129,900 model would dispute that safety claim after the vehicle caught fire while being driven near the person's Pennsylvania home, just three days after it was delivered.
"This is a harrowing and frightening situation and an obvious major problem. Our preliminary investigation is ongoing, but we call on Tesla to sideline these cars until a full investigation can occur," attorney Mark Geragos of Geragos & Geragos, who is representing the driver, told Newsweek. Reuters first reported on the vehicle fire.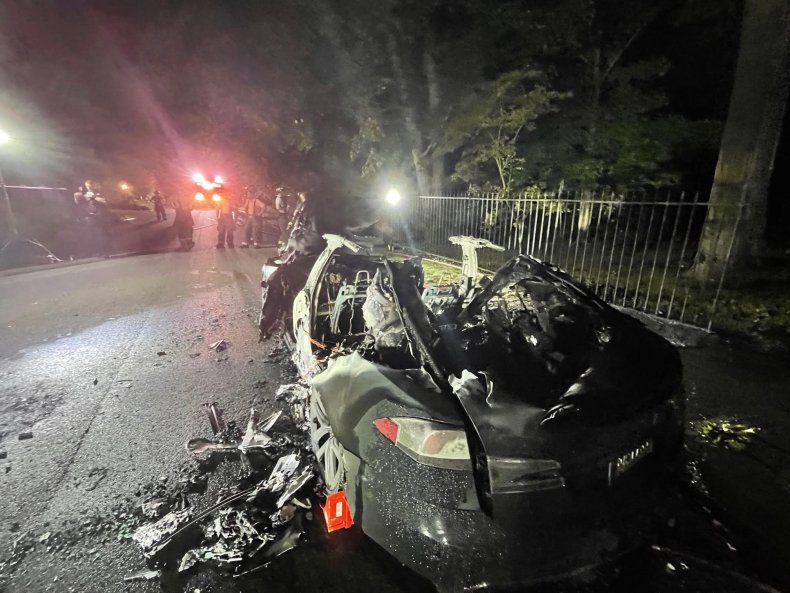 Photos of the fire shared with Newsweek by Geragos & Geragos show emergency responders at the scene of the blaze. An image captured after the fire was put out shows the charred remains of the interior of the vehicle's hood, where it appears the fire began.
Geragos told Reuters that his client, identified only as an "executive entrepreneur," struggled to escape the Model S after it caught fire. The lawyer said that the electronic door system failed and that the driver had to "use force to push it open." The vehicle reportedly moved forward 35 to 40 feet after it caught fire before becoming a "fireball."
Newsweek reached out to Tesla's press office for comment but did not immediately receive a response.
The cause of the fire remains unclear and is under investigation. Musk said this spring that Tesla's Model S and Model X sport utility vehicles had new battery packs. However, he assured the public that these were thoroughly tested for safety, which caused delays.
"It took quite a bit of development to ensure that the battery of the new S/X is safe," Musk said during a conference call, while discussing the reason for production delays. "There were more challenges than expected in developing the new version."
Local fire authorities initially posted to Facebook about the incident, according to Reuters. They said that they had cooled the Tesla's "batteries down to ensure complete extinguishment." That post has since been deleted.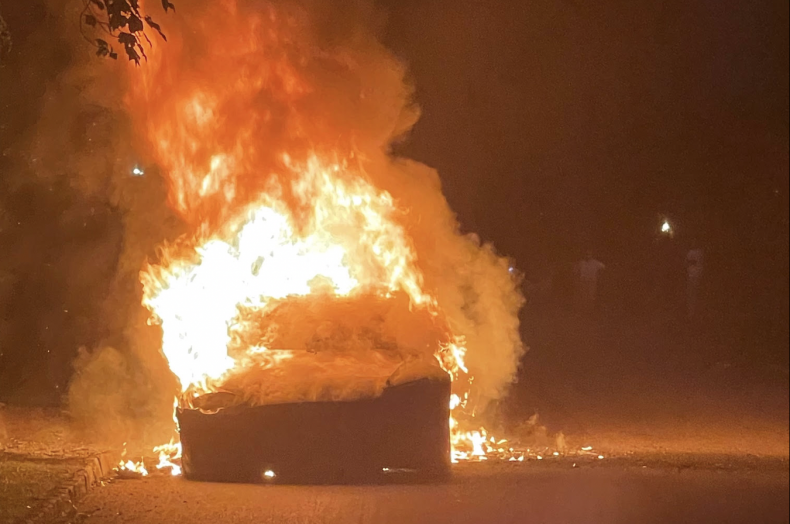 At the end of June, Tesla began recalling nearly 300,000 vehicles in China because of safety concerns over the automobile's cruise control feature. That recall included nearly 250,000 Model 3 and Model Y vehicles made in Tesla's Shanghai factory, as well as more than 35,000 imported Model 3 vehicles.
"We apologize for any inconvenience this may cause to our car owners. In the meantime, Tesla will strictly follow national regulations and keep improving our safety protection, adamantly providing an excellent and safe driving experience to our customers," Tesla said in a statement regarding the China recall.