Man Burned 'Beyond Recognition' Inside Tesla After Defective Doors Turned Car Into 'Death Trap,' Lawsuit Alleges
The futuristic door handles on Tesla's Model S cars are being blamed for the death of a doctor who was unable to be rescued from his vehicle following a crash in February, according to a lawsuit.
Omar Awan, a 48-year-old anesthesiologist, died after losing control and crashing his high performance car into a tree in South Florida.
According to a wrongful death lawsuit, filed in Broward County, a police officer close to the accident immediately went to help. However the Model S's door handles, which are designed to protrude out and "auto present", malfunctioned and failed to do so.
As first responders were unable to get inside the vehicle to rescue Awan, he eventually died of smoke inhalation after the car's lithium ion battery caught fire. Soon the car was "completely engulfed" in flames as the officer and others who came to assist helplessly looked on.
"After the Tesla hit the tree, he was alive," the lawsuit states. "He had no internal injuries or broken bones. He died from the smoke he inhaled as he sat locked inside the Tesla, despite that a police officer and others were there and ready to help, until flames forced them away.
"The fire engulfed the car and burned Dr. Awan beyond recognition—all because the Model S has inaccessible door handles, no way to open the doors, and unreasonably dangerous fire risk."
The lawsuit alleges that the Model S handles were defective and the potential fire risk had not been addressed through proper design.
"Tesla failed to give any appropriate, adequate, full or fair warnings about the risks relating to the door handles or the smoke and fire.
"These Model S defects and others rendered it a death trap."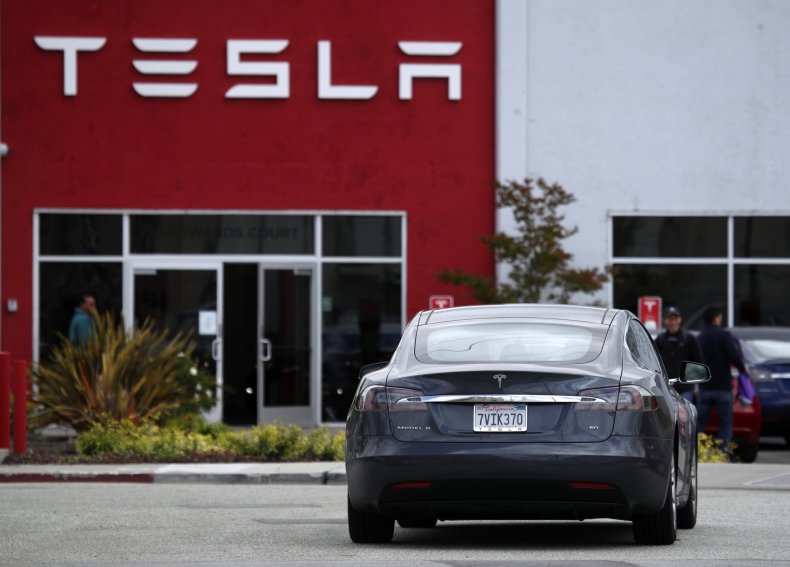 After firefighters eventually managed to extinguished the blaze, Awan's Tesla was towed to a local yard, where it again ignited and burned.
The lawsuit said that Tesla were aware of the potential fire risk of the Model S since 2013 and have failed to address them.
Tesla did not immediately respond to a request for comment.
In a statement following Awan's death in February, a spokeswoman for the company told the Sun-Sentinel: "We are deeply saddened by this accident and our thoughts are with everyone affected by this tragedy.
"We have reached out to the local authorities to offer our cooperation. We understand that speed is being investigated as a factor in this crash, and know that high speed collisions can result in a fire in any type of car, not just electric vehicles.
"Tesla vehicles are engineered to be the safest cars in the world and Tesla drivers have driven more than 10 billion miles to date."
A Broward County autopsy report, obtained by The Washington Post, ruled Awan's cause of death as "inhalation of products of combustion with a contributory cause of death of thermal injuries."