What Elon Musk Said in Anti-union Tweet He Has Been Ordered to Delete
Tesla must make CEO Elon Musk delete an "unlawful" tweet about unions posted May 2018, the National Labor Relations Board (NLRB) has ruled.
A legal order was published by the agency on Thursday as part of a long-running case about the collective organizing of employees, and was filed following Tesla's appeal of a 2019 ruling that alleged the company and Musk had violated labor laws.
The case was brought after Tesla fired an employee named Richard Ortiz who had been part of a unionizing campaign called "Fair Future at Tesla" in 2017.
Musk tweeted in May 2018: "Nothing stopping Tesla team at our car plant from voting union. Could do so tmrw if they wanted. But why pay union dues & give up stock options for nothing? Our safety record is 2X better than when plant was UAW [a reference to United Auto Workers] & everybody already gets healthcare."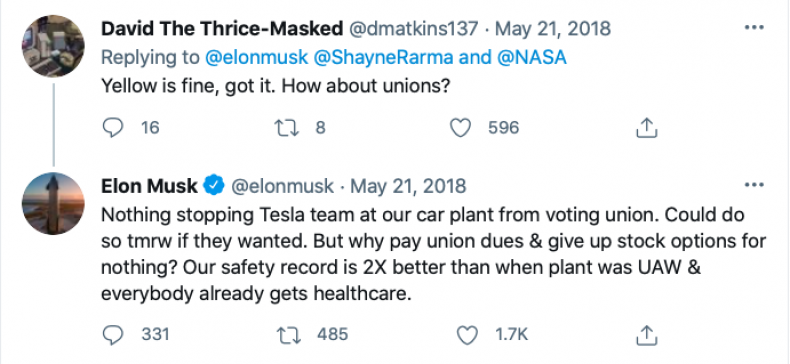 The Board argued that Musk's public tweet had "coercively threatened that employees would lose their stock options if they selected the Union as their representative."
"Musk unlawfully threatened the Respondent's [Tesla] employees in a manner viewable by the public without any limitations," the NLRB decision said.
Back in 2018, Musk's personal Twitter account had approximately 22.7 million followers. In 2021, the popular profile has an audience of about 49.6 million.
In addition to the tweet deletion, the NLRB said Tesla will not only have to post a notice about "unfair labor practices" at its facility in Fremont, California, but also post a notice "addressing only Musk's unlawful tweet at all of its other facilities nationwide."
The NLRB ruling said Tesla will have to rescind previous anti-union activities, including a rule orally announced in February and May 2017 that outlawed off-duty employees from spreading union literature on the parking lot of a Tesla factory.
Another rule orally announced in March 2017 that threatened workers with discipline for distributing union materials on site should also be rescinded, the NLRB said.
Ortiz should be offered full reinstatement to his former job or a substantially equivalent position within 14 days of the order, and compensated for loss of earnings or adverse tax consequences suffered as a result of the "discrimination" against him.
UAW vice president Cindy Estrada said in a statement on Thursday that the NLRB ruling was a "great victory for workers" but criticized the delayed ruling.
Estrada said: "While we celebrate the justice... it nevertheless highlights the substantial flaws in US labor law. Here is a company that clearly broke the law and yet it is three years down the road before these workers achieved a modicum of justice."
Tesla has been contacted for comment by Newsweek.
Musk's 2018 tweet remains online. He has not directly referenced the NLRB ruling. He wrote on Thursday: "If there's ever a scandal about me, *please* call it Elongate."