Tesla is moving its headquarters to Texas where it is not legally allowed to sell cars directly to consumers, after Elon Musk threatened to relocate from the Silicon Valley's Palo Alto in 2020.
The Tesla CEO said on Thursday that the company was moving its headquarters from Silicon Valley to Austin, Texas, where it had been building a new factory for just over a year.
In an annual shareholder meeting, Musk was quick to play down the fact that the carmaker was leaving California. He said Tesla would continue to operate its electric vehicle factory in Fremont, California, and he plans to increase the production there by 50 percent.
"Just to be clear, though, we will be continuing to expand our activities in California," he said during the meeting. "So this is not a matter of Tesla leaving California."
But he said Tesla's Fremont factory was "jammed" and it was tough for people to afford houses in the Western state.
However, Texan state laws ban car companies from selling directly to customers. Instead, they must sell their cars to independently owned third-party businesses that sell them to Lone Star residents.
Texan buyers have previously used various loopholes to take home their electric cars—for example, any Texan can order a Tesla through the company's website but none of those orders may be placed or processed within a Tesla Texas facility.
However, the paperwork could be sent to another state for completion and then the car could be ordered and shipped to one of Tesla's eight Texas service centers.
If the buyer pays for it online (not in a Texas facility) and drives it away, it can be bought, The Drive reported, as Tesla hasn't delivered the car in Texas—it's only made the car available to be "picked up" by its existing owner.
Musk himself moved to Texas from California in December to focus on the Tesla's Giga Texas factory and his rocket company SpaceX, which has a launch site in the southern tip of the state.
Newsweek has contacted Tesla for comment.
The graphic below, provided by Statista, shows how Tesla's sales have increased over time.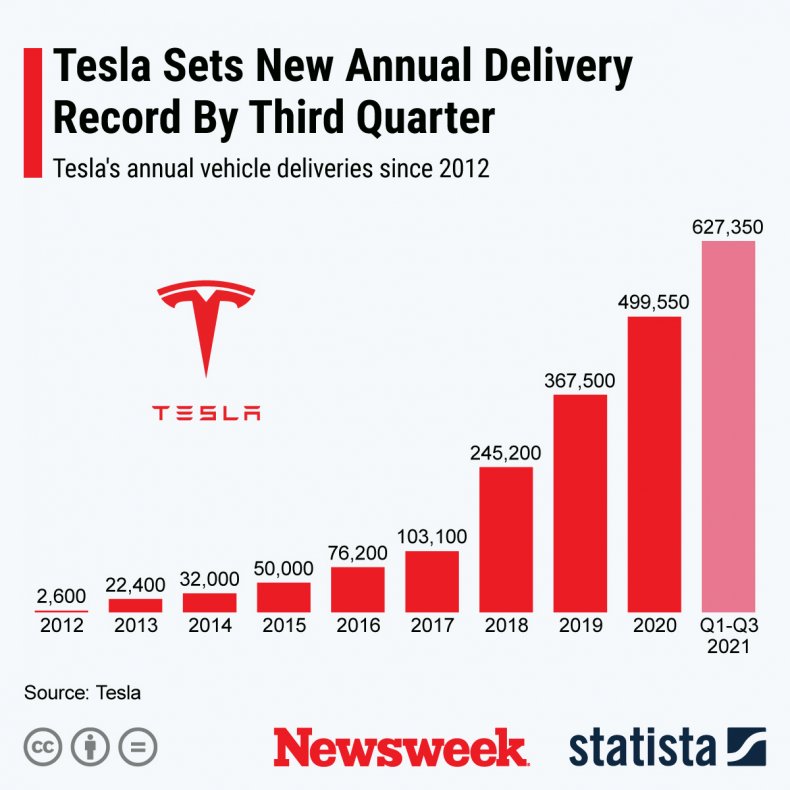 Musk has long complained about California's shelter-in-place orders in response to the COVID-19 pandemic. The order, which Gov. Gavin Newsom implemented in March 2020, required all Californian residents to stay at home for all but essential activities such as grocery shopping, retrieving medical provisions, or caring for relatives in need. On Tesla's first quarter earnings call in April 2020, Musk slammed the policy as "fascist" and causing "great harm" to many companies, after he was unable to operate his plants in the state.
In May that year, Musk even threatened to pull Tesla's entire operations out of California in 2020 over the COVID restrictions. The electric carmaker sued local authorities in a push to reopen its factories in California. Tesla reopened its Fremont plant in defiance of the restrictions that same month, with 450 staff testing positive for the virus in the months that followed.
Tesla joins Oracle, HP and Toyota Motor in moving to Texas from California. The Tesla CEO didn't give a reason for the move, but it will see Musk's personal tax burden dramatically reduced. While California levies some of the highest income taxes and living costs in the country, Texas has no personal income tax. The southern state is also known for its cheap labor.