Tesla Plans 'Robotaxis' With 'No Steering Wheels or Pedals' in 2 Years
Tesla CEO Elon Musk has promised a new type of futuristic vehicle dedicated to changing the rideshare industry—the "robotaxi," which he claims will be cheaper than riding the bus or subway.
On the Tesla Q1 2022 earnings call, Musk announced that the company is working on an electric robotaxi vehicle and that it will reach volume production in 2024. Musk first mentioned the robotaxi about two weeks ago at the Tesla Texas Gigafactory grand opening, hinting it would look "quite futuristic."
"We are also working on a new vehicle that I alluded to at the Giga Texas opening, which is a dedicated robotaxi. It is going to be highly optimized for autonomy—meaning it will not have a steering wheel or pedals," Musk said.
Without going into too many details, the business mogul also alluded to "other innovations" surrounding the vehicle he thinks will be exciting.
While Uber and Lyft have been dominating the rideshare industry, Musk said the robotaxi will be significantly cheaper than both services.
Pricing for Uber and Lyft are fairly similar, starting at $1 at the start of the ride, with a $1.50 charge per mile along with a 25-cent fee per minute, according to tech website TheStreet. However, drivers can trigger a surge price increase when traffic is heavy and during high-demand times.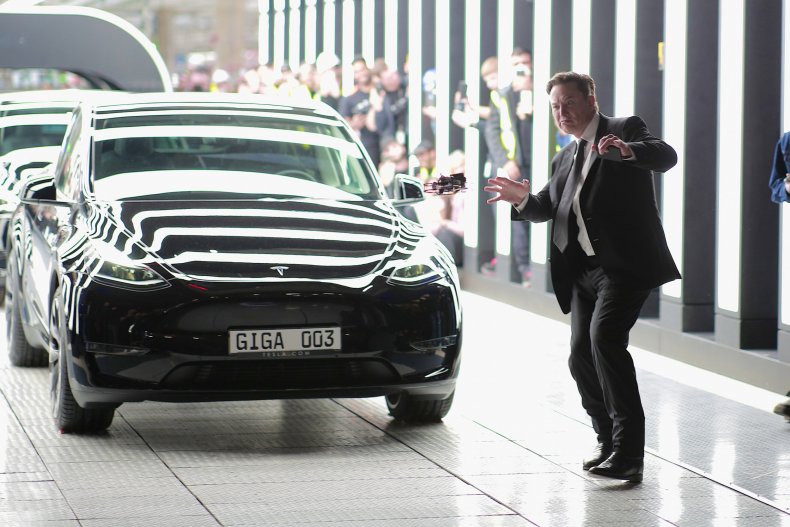 Musk said the cost of a robotaxi would be considerably lower. "I think especially with the robotaxi and autonomy, we'll end up providing consumers with by far the lowest cost per mile of transport that they've ever experienced," Musk said. "With the robotaxi, like maybe five to 10 times or cost per mile, it's really quite substantial."
He said that the ride would be even cheaper than a bus ticket—which has an average fare per trip of $1.44, according to the American Public Transportation Association.
"Looking at some of our projections, a robotaxi ride will cost less than a bus ticket—a subsidized bus ticket or a subway ticket."
It will be a while before the public can take a sneak peek at the vehicle. Musk said the official product announcement won't be released until sometime next year.
"We don't wanna jump the gun on an exciting product announcement too much, so I think we'll aim to do a product event for robotaxi next year and get into more detail," Musk said on the earnings call. "But we are aiming for volume production in 2024."
Newsweek reached out to Tesla for comment.