Tesla-powered Vintage Land Rover Defender 110s Hit the Road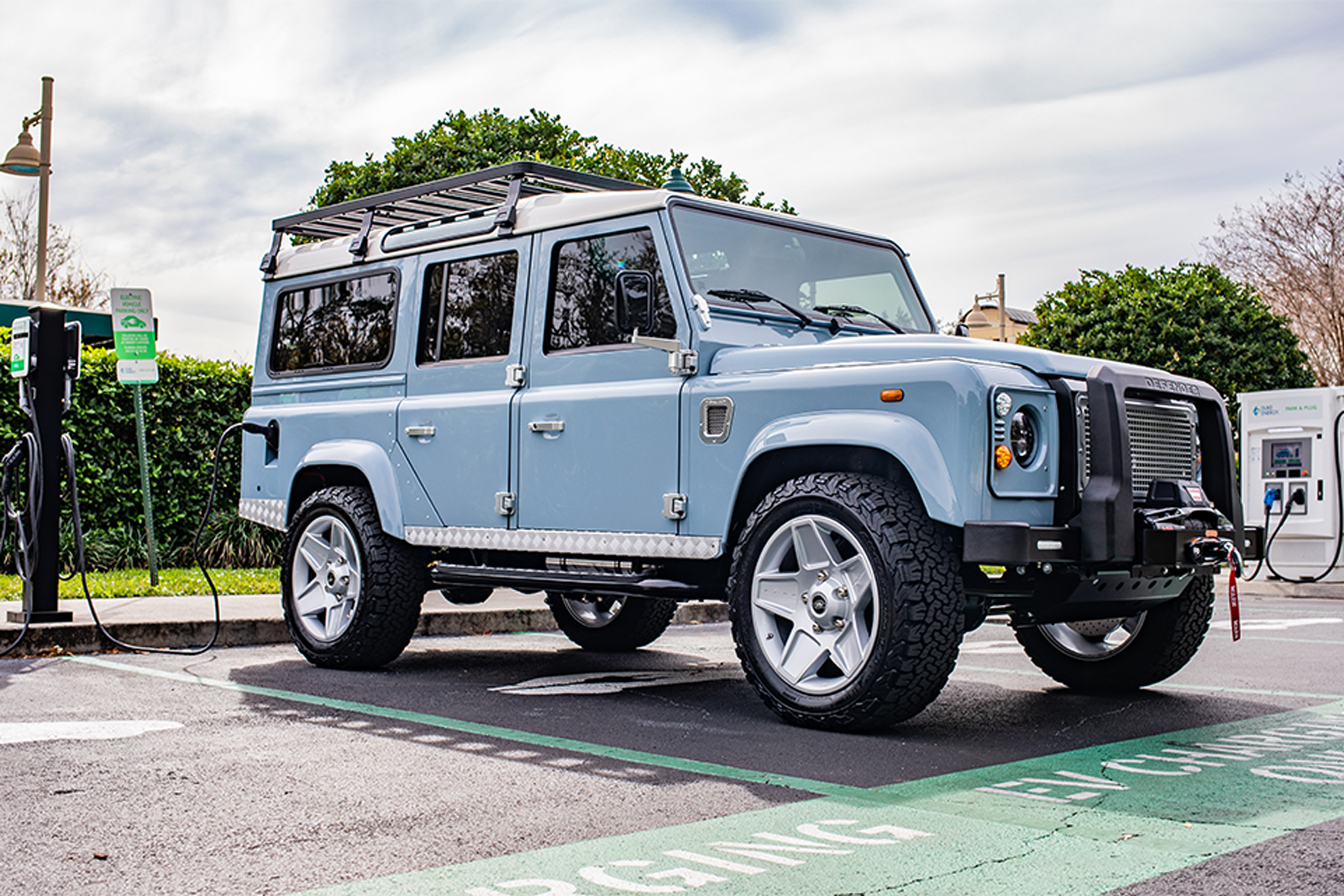 Months after debuting the world's first all-electric Land Rover Defender, E.C.D. Automotive Design has unveiled two Tesla powertrain-powered Defender 110s.
The vintage Defender and classic Range Rover customization company imported the two work vehicles from the U.K. and provided the modernized upgrade while maintaining the old Defender's classic look.
"At the end of the day, we're doing this with deep love of older Defenders and a passion to keep them on the road by modifying them to fit into our client's lives," said E.C.D. co-founder Elliot Humble in a press release. "Whether it takes figuring out how to engineer an electric engine into a restored Defender or color-matching the paint to match a favorite shirt, our world-class team can breathe life to our clients' wildest dreams."
The two builds are now known as Project Britton and Project Morpheus. These one-of-a-kind Defenders are E.C.D.'s first in-house rebuild on U.S. soil. The previous electric Land Rover conversion was known as Project Ski.
The new pair are powered by a 450-horsepower Tesla Model S P100D powertrain setup that can reach from zero to 60 mph in five seconds and drive for over 220 miles after charging for just five hours.
Beyond that, the two builds are a bit different.
Project Britton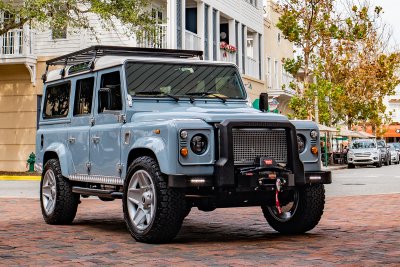 Project Britton is coated in glossy Cool Khaki Gray paint with an Alpine White roof. Silver accents feature on the exterior and there is a custom sunroof. A vintage style grile, swing-away wheel carrier, sidesteps with SVX silver inserts and a Front Runner roof rack and ladder come on the model.
This Defender rides on custom painted Kahn Mondial wheels wrapped in BF Goodrich Rugged Trail T/A tires.
Project Britton sports E.C.D.'s adjustable air suspension and gets its stopping power from Brembo brakes.
The cabin of Project Britton maintains its classic feel with a Evander Wood wheel that contrasts its custom E.C.D. electric gauges. While sand beige Porsche Nappa leather is wrapped around heated and ventilated Recaro Expert S seats.
The build's most unique feature is its teak wood following in the cargo area. A matching teak storage bench with an upholstered lid sits beside the two inward-facing jump seats.
Among the premium modern features are the Alpine Floating Halo infotainment system with bluetooth, WiFi, remote start, blind spot alert, backup sensor, forward facing and rearview cameras and three wireless charging pads.
Project Morpheus
Project Morpheus also gets an air suspension and BF Goodrich tires. No parking lot princess, Its axles have been upgraded to deliver a quieter and smoother ride over rough terrain.
Coated in an Arles Blue paint and wearing a Chawton White hardtop roof, the build features a black Front Runner roof rack with four LED spotlights, classic black Land Rover mesh grille and black full-length side steps.
Inside of Project Morpheus, passengers sit on hand-stitched black and Caviar-colored Garrett Torino leather with single horizontal stitching. This three-row build features two heated Classic Puma front seats, two Classic Puma middle seats and two forward-facing jump seats in the back.
Project Morpheus sports a leather wrapped Puma dashboard, custom E.C.D. center console and Evander Wood steering wheel round out its superb interior. Other modern upgrades include a Kenwood Excelon Radio, JL Audio sound system, four USB ports, Bluetooth, blind spot alert, a rearview camera and rear AC vents.
Each of E.C.D.'s builds are made for individual customers and don't stay in house. Pricing is not disclosed.