As Tesla Threatens to Leave California Over Coronavirus Restrictions, Treasury Secretary Implores State to Do 'Whatever It Needs' to Reopen
Treasury Secretary Steven Mnuchin said Monday California should do whatever it must in order to resolve remaining COVID-19 concerns so Tesla CEO Elon Musk can allow his employees to return to work.
Mnuchin's statement came in response to a steady flow of criticism from Musk on the state's handling of the coronavirus pandemic, which culminated in Musk threatening to move Tesla's headquarters out of the state last week.
"I agree with Elon Musk," Mnuchin told CNBC's Jim Cramer during an interview Monday morning. "He's one of the biggest employers and manufacturers in California, and California should prioritize doing whatever they need to do to solve those health issues so that he can open quickly and safely. They're going to find, as he's threatened, he's moving his production to a different state."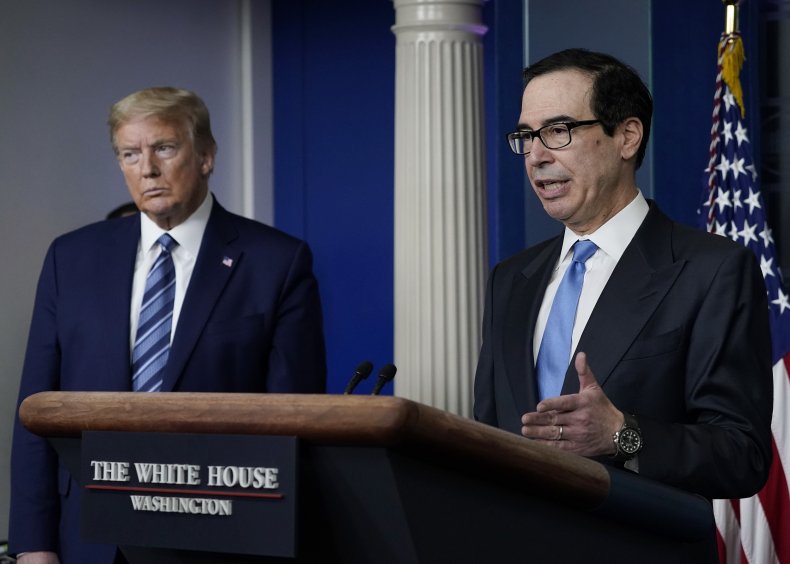 California, which on March 12 was the first state to issue a stay-at-home order, began lifting some of those restrictions last week. Governor Gavin Newsom said during a May 8 news conference that about 70 percent of the state's economy would be able to reopen as the state entered its next phase in responding to the pandemic, albeit with social distancing and sanitation requirements in place.
Even so, a lot of the decisions regarding when and how reopening can proceed remain at the county level as local health officials respond to the latest trends in coronavirus cases and deaths. In Alameda County, which is home to Tesla's Palo Alto headquarters, officials last month extended the county's stay-at-home order through May 31. As of Sunday, Alameda was the county with the seventh greatest number of coronavirus cases in the state.
In a May 9 letter outlining the company's plans to resume operations, Tesla said it had tried unsuccessfully to work with Alameda County officials to come up with a plan for reopening in line with Newsom's guidelines. The company filed a lawsuit against the county the same day, alleging in the complaint that the "power grab" made by county officials "not only defies the Governor's Order, but offends the federal and California constitutions."
"Frankly, this is the last straw," Musk tweeted on May 9. "Tesla will now move its HQ and future programs to Texas/Nevada immediately. If we even retain Fremont manufacturing activity at all, it will be dependen [sic] on how Tesla is treated in the future."
Newsom had not publicly addressed Musk's comments about moving Tesla's headquarters by Monday morning. He did not respond to Newsweek's request for comment before publication.
Though not all business owners have been as vocal as Musk in calling for local economies to reopen, lawmakers—including House Speaker Nancy Pelosi—have joined Americans in calling for clearer federal guidelines as states begin the reopening process. The White House's official guidelines, which President Donald Trump introduced as "Opening Up America Again" last month, presented a skeletal outline of requirements states must meet for virus testing, capacity at health care facilities and strategies for social distancing.
"The president has given directives into what we should be doing," Mnuchin told Cramer. "We put out a set of guidelines, and we're working with the states."