Tesla Is Turning 50,000 Homes in South Australia Into a Giant Battery
The state government of South Australia is enlisting the help of Tesla to connect 50,000 solar-powered homes in order to create the world's largest "virtual power plant."
The plan involves installing a 5kW solar panel system and a Tesla Powerwall 2 battery on public housing properties across the state over the next four years—at no cost to the households involved.
South Australia has suffered from blackouts in recent years amid fears of a looming energy crisis. Last year, Tesla CEO Elon Musk claimed he could help solve the problem by building a giant battery farm within 100 days.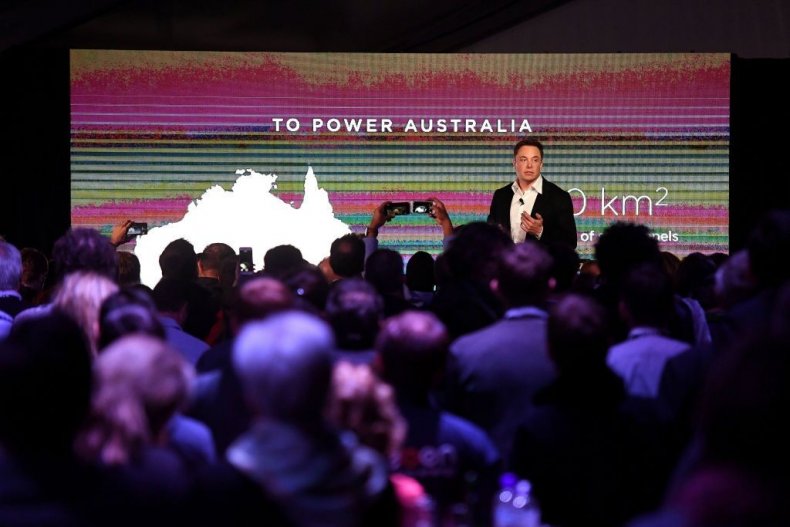 The 129-megawatt-hour battery was installed weeks ahead of schedule and is estimated to now provide reliable electricity to up to 3,000 homes in the state.
South Australia now wants to further improve its electricity supply through a virtual power plant, which works by linking participating homes into a network capable of generating, storing and feeding energy back into the grid.
The rollout will be initially funded by a AUS$2 million (1.6m) grant from the state government, as well as a AUS$30 million ($23.8m) loan from the Renewable Technology Fund. This will then be repaid through the sale of electricity.
Read more: Elon Musk and the world's fastest-selling flamethrower
A trial of the virtual power plant is already underway, according to the local government, and residents were encouraged to register their interest in participating in the program.
"The Government will release a market notice later this week for a retailer to deliver the program, with a preference of bringing more competition into the market," the government said in a statement on Sunday.
"Additionally, all South Australians will also benefit from the increased generation in the South Australian energy mix, with lower energy prices and increased energy stability."
The initiative is expected to lower household electricity bills by 30 percent, according to the consultancy firm Frontier Economics.
"[South Australia] is developing a 21st Century power system ahead of anybody else," said Danny Price, managing director of Frontier Economics.
Similar schemes are already underway in North America and Europe but Price says South Australia's will be three-times the size of the rest of all virtual power plants around the world.
"What's unique about this is the way in which these different elements have been brought together under a coherent plan and executed extremely quickly to deal with the challenges in South Australia," Price said.
"It really is leading the way in terms of the way in which a kind of modern power system looks like. In fact South Australia is developing the power system that we must have to meet the Paris agreement," he said, referring to the climate deal that was signed in 2016 to help reduce global emissions.