Tesla Warns Drivers to Charge Cars Before California Blackout
Over the past several days Tesla has been pushing notifications to drivers warning them to charge their cars to "100% today to ensure your drive remains uninterrupted" in the midst of the forced California blackout. Electric companies across California have taken an unprecedented measure to cut power to nearly a million customers to prevent fire damage from forecast increased winds.
"A utility company in your area announced they may turn off power in some areas of Northern California beginning October 9 as part of public safety power shutoffs, which may affect power to charging options," the notification for a Northern California Tesla driver read. "We recommend charging your Tesla to 100% today to ensure your drive remains uninterrupted. As always, your touchscreen will display live statuses of Superchargers in your area—simply tap on a desired Supercharger station to confirm its availability."
Tesla's operate solely on an electric charge. Drivers can charge their cars at their homes or at Tesla charging locations across California. Each Tesla comes equipped with a large operating screen in the center console of the car and is used to do everything from view battery life, operate interior vehicle controls and receive communication directly from the manufacturer.
Get your unlimited Newsweek trial >
The blackouts across the state will impact 34 counties in Northern and Southern California, hitting an estimated 800,000 people. Many past devastating wildfires in the state started because of a utility issue, which is why the two main electric companies in California, PG&E and Southern California Edison, took the drastic measures Wednesday to prevent future fires. The power outages began shortly after midnight on Wednesday and will continue until the threat of high winds are gone.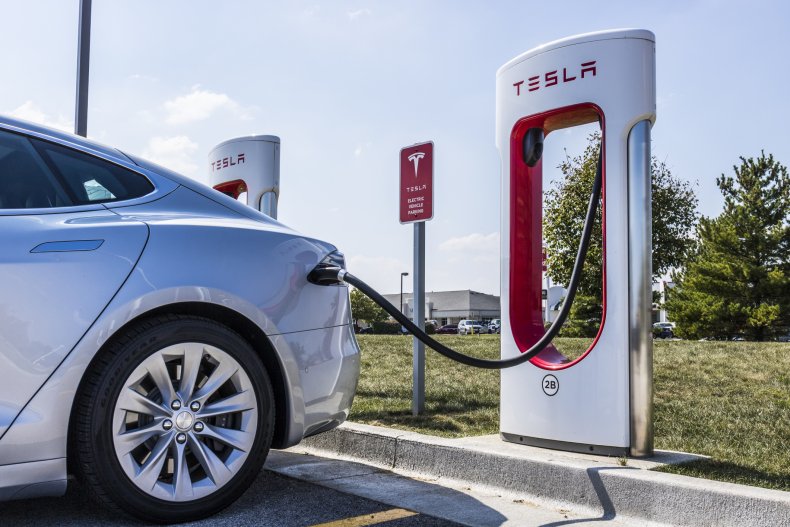 Reaction to the power company's decision was mixed, with Gov. Gavin Newsom, a Democrat, supporting their decision, while understanding resident's frustrations over how to prepare.
"The reality is that we want to protect people," Governor Newsom said to reporters at a bill signing on Tuesday. "We want to make sure people are safe. This is what PG&E thinks is in the best interest of their customers and ultimately for this region and the state... It is a massive inconvenience. No one wants to see this happen. But it is a public safety issue."
Get your unlimited Newsweek trial >
California State Senator Jerry Hill, also a Democrat, told the Los Angeles Times the power company's actions are "excessive" and that PG&E, the provider in his district, hasn't done enough to update the power grid to prevent causing future wildfires.
"PG&E clearly hasn't made its system safe," Hill said. "These shutdowns are supposed to be surgical. But shutting down power to 800,000 people in 31 counties is by no means surgical."
"This cannot be something that can be acceptable nor long-term," Hill added. "This is third world, and we are not."
A major concern for many residents, especially those who depend on communication by landline phones (often operated through electricity), TV and radio, are concerned people won't receive adequate warnings in advance of a potentially quickly moving wildfire.
"People have been on pins and needles all day because of the uncertainty," Diana Clarke, executive director of the Ukiah Senior Center, told the Los Angeles Times. "They don't know if they should go out and buy supplies, and especially with seniors, they don't have a lot of extra money."
High winds are expected throughout the state until Friday. Power will be restored once the threat is over.
Tesla Warns Drivers to Charge Cars Before California Blackout | U.S.