Tessa Blanchard Wins Impact World Championship Amid Bullying Allegations
Tessa Blanchard defeated Sami Callihan to win the Impact World Championship at Sunday's Hard to Kill pay-per-view event, becoming the first woman in the promotion to do so. A story six months in the making, however, was overshadowed by controversy after allegations of racism and bullying against the 24-year-old erupted over the weekend.
The allegations began Saturday morning after Blanchard tweeted, "Hey women, try supporting one another. Cool things happen." This started a wave of comments from several women's wrestlers, including Priscilla Kelly, Isla Dawn, Tanea Brooks—many of them former Impact performers— against Blanchard.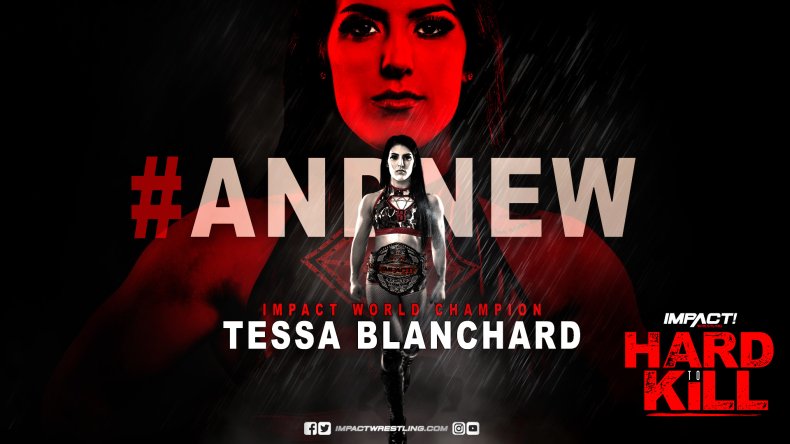 Sienna, formerly known as Allysin Kay in Impact and current NWA Women's Champion, responded: "Remember when you spat in a black woman's face and called her the N-word in Japan? Was that 'supporting women'?"
NXT's Chelsea Green, who worked in Impact, also responded, saying "you've consistently put down, bullied, and belittled countless female coworkers including me. Is that support?"
La Rosa Negra, a wrestler from Puerto Rico, is the woman Blanchard is alleged to have attacked in Japan. She spoke about the incident to Contralona in a video interview, saying she is happy about the support she gained on Twitter and adding that women wrestlers need to respect each other. You can watch the interview with English subtitles below.
Blanchard defended herself in a tweet later Saturday, "Not true. That's my statement and the most attention I'll give it because of how actually ridiculous it is."
Impact Wrestling has not yet responded to Newsweek's request for comment.
After the allegations were made on Twitter, Blanchard was not made available to press during media sessions Saturday or after the show on Sunday. Blanchard, however, spoke to the live crowd after Hard to Kill went off the air, and appeared to address the controversy.
"Over the past eight months this has been my life, Sami and oVe has been the thorn in my side, and tonight, we did it!" Blanchard said. "Nobody—nobody—in this life is perfect. We're all human. And it doesn't matter what you say about me, it doesn't matter what you call me. I have one of the strongest minds that I've ever known. So, whenever you come for me, you come for all of these people. I am now the standard-bearer of Impact Wrestling. And, man or woman, pound for pound, I am one of the best in the world and I am now your world champion."
Impact Wrestling announced its next pay-per-view event, Rebellion, will be held in April in New York City.