Watch Tessa Thompson and Chris Hemsworth Runite For 'Men in Black International'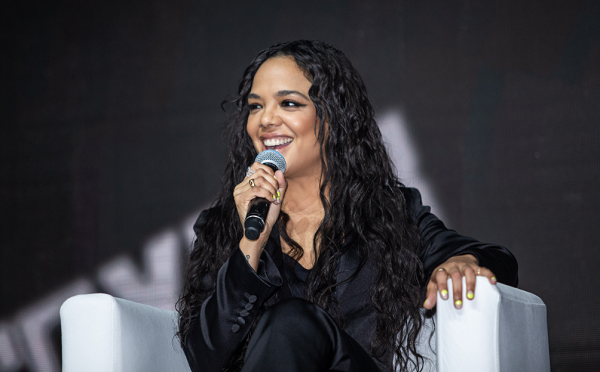 Tessa Thompson and Chris Hemsworth have teamed up to fight evil once again, except this time around it's the intergalactic kind. The duo, who rocked the big screen together for 2017's blockbuster Thor: Ragnarok, paired up for Men in Black International, set to hit theaters in 2019.
The trailer for the fourth film of the Men in Black franchise was released on Thursday.
Much like the first three films, which originally starred actors Will Smith as Agent Jay and Tommy Lee Jones as Agent Kay, the new movie will follow Agent M (Thompson) and Agent H (Hemsworth) as they secretly fight aliens for the rumored-but-very-real MIB organization.
However, this time around the agents are protecting more than just the good folks of the U.S. from alien crime. Thompson and Hemsworth's characters will trot around the globe saving people from the mayhem and destruction of extraterrestrial beings. Another change from the original—The MIB headquarters are no longer hidden in the depths of New York City. Instead, Agent M and Agent H will report to the MIB division in London, where Liam Neeson will star as the head of the branch.
Of course, shooting down aliens with highly advanced laser guns takes center stage in the trailer, but the nearly three-minute spot teases an even bigger problem for the organization—being compromised. It's unclear how, or who, may be responsible for potentially outing the super discreet agency, but from the looks of it, discovering the organization's authenticity isn't nearly as challenging as it was for alien-conspirators as it was in the first three films. In fact, unlike the way Agent Jay found out about the MIB (Agent Kay found him and brought him into the agency), Thompson's character will find the alien hunters all on her own.
"It took me 20 years to find you. How many people can say that? You are the best-kept secret in the universe, and I found you, which makes me perfect for this job," Agent M says in the trailer.
In addition to Thompson, Hemsworth and Neeson, Emma Thompson, Rebecca Ferguson, Kumail Nanjiani and the Les Twins are slated to appear in the movie.
Men in Black International hits theaters on June 14, 2019.
Check out the trailer below.