India Test-Fires Agni-V Ballistic Nuclear Missile That Can Hit China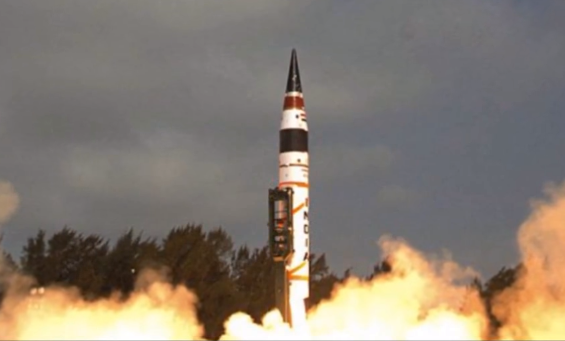 India successfully test-fired its nuclear-capable intercontinental ballistic missile (ICBM), Agni-V, off the coast of the eastern Odisha state on Thursday morning.
The test was the new weapon's final operational configuration, bringing it one step closer to being a deployable warhead in India's land-based ballistic missiles arsenal. With a range exceeding 3,016 miles, the long-range ICBM can reach the northern parts of China, reported CNN.
"India has successfully test fired the 5000-km range Inter-Continental Ballistic Missile Agni-V at 9:53am today. The Made in India canistered missile, having 3 stages of propulsion, was test fired from Abdul Kalam island off Odisha coast," India's Defense Minister, Nirmala Sitharaman, said in a tweet Thursday.
The missile, part of an Agni series, was developed by the Defense Research and Development Organisation (DRDO) of India.
The launch on Thursday marked the fifth test of the 55-foot long Agni-V since its first launch in 2012. Its last test was held in December last year.
Ajai Shukla, a former Indian army colonel, told CNN that India has been incrementally developing the "complexity of the testing process." He also claims that all of China is within the weapon's maximum range.
According to the Federation of American Scientists, India possesses around 130 nuclear warheads, which is a modest figure compared to the U.S. and Russia who both have several thousand each.
NDTV, an Indian news channel, also confirmed the launch and said that its success has guaranteed India's spot in the "super-exclusive club of countries with ICBMs."
China criticized the missile according to a report in the Global Times, a state-run newspaper, slamming India's desire to enter the global intercontinental missile club. However, intercontinental missiles normally have a range of over 4,970 miles and the Agni-V only boasts 3,016 miles, the paper reported.