Testing Czar Giroir Breaks With Trump Over Retweeted CDC Post, Says 'None of Us Lie'
The assistant secretary for health at the Department of Health and Human Services said Monday that everyone on the White House's coronavirus task force has tried to be as transparent as possible with the American people during the pandemic.
Admiral Brett Giroir, who leads virus-testing efforts in the U.S. and is a member of the task force, was discussing testing and containment efforts during an interview on the Today show. He was asked about allegations directed at the U.S. Centers for Disease Control and Prevention (CDC) and health care workers that President Donald Trump recently retweeted to his estimated 83.4 million followers.
The original tweet was posted by Chuck Woolery, a former game show and talk show personality who was the first host of both Wheel of Fortune and Love Connection. In his tweet, Woolery wrote, "The most outrageous lies are the ones about Covid 19. Everyone is lying. The CDC, Media, Democrats, our Doctors, not all but most, that we are told to trust. I think it's all about the election and keeping the economy from coming back, which is about the election. I'm sick of it."
The president later retweeted a second post by Woolery that advocated school reopenings and another from April by Mark Young, co-host of Woolery's current podcast series, that poked criticism at Anthony Fauci, the director of the National Institute of Allergy and Infectious Diseases, who also serves on the White House's coronavirus task force.
"I'm not a Twitter analyst," Giroir said when asked about Trump's retweet. "To be quite honest, I don't spend time looking at any of that on Twitter, because who knows what it means or how it's interpreted?"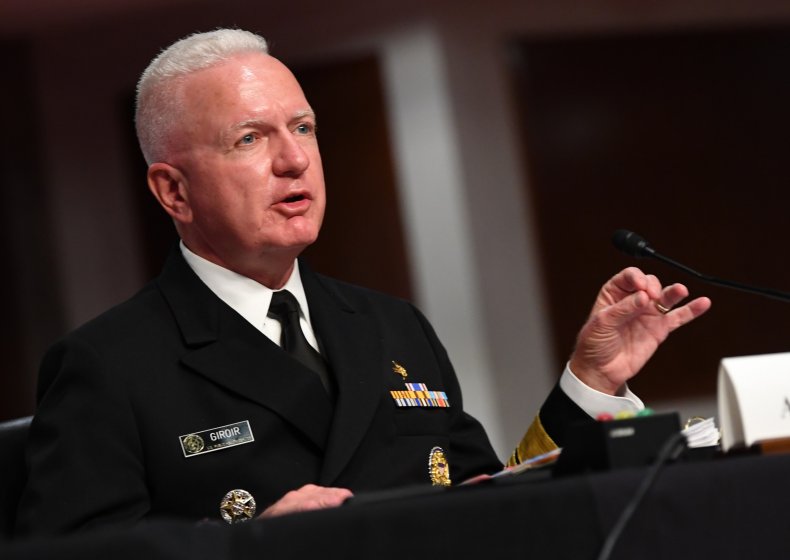 Giroir then pushed back against the idea that the CDC and members of the task force were lying about threats posed by the pandemic.
"We're trying to be very clear about our message, particularly in the hot zones where we have a lot of community spread," Giroir said. He emphasized the importance of closing bars, in which social distancing is more difficult to maintain, and limiting indoor seating capacity at restaurants.
"These are things we can do to control the virus. We're trying to be clear. I think there's unanimity of opinion on that," he said.
Giroir defended Fauci and one of their fellow task force members, Dr. Deborah Birx, and added that the task force's leader, Vice President Mike Pence, "listens to us all."
"None of us are always right, and we admit that," Giroir said. "We may occasionally make mistakes based on the information we have, but none of us lie. We are completely transparent with the American people. My experience on the task force is the vice president and everyone there has been completely transparent. We let the American people know what we know."
Newsweek reached out to Pence's office for comment but did not receive a response in time for publication.
Trump's recent retweets mark just the latest time he has publicly called out the CDC and other health officials. In a series of tweets last week, the president criticized the agency's "tough" and "expensive" school reopening guidelines as his administration pushes to reopen schools in the fall. In mid-June, he criticized Fauci for questioning whether professional football would be able to return safely in the fall because of the virus outbreak.
During his Today interview, Giroir said he took his role as a contributing member of the coronavirus task force seriously and reiterated that he did not believe its members were lying.
"Nobody lies to the American people; we're completely transparent and honest," Giroir said. "That's my job as a public servant. We take that as a sacred oath—to be honest and let the American people know what's going on."