High Testosterone Levels 'Significantly' Boost Women's Running Ability
In the first study of its kind, researchers have discovered high testosterone levels can significantly boost women's ability to run. The scientists found that women who were given testosterone to increase their levels of the hormone were able to run for over 20 seconds longer than those without a testosterone boost—providing evidence to support the idea the hormone does impact athletic ability.
This research follows the case of the South African runner Caster Semenya, who was banned from competing in the World Championships in Doha by the International Association of Athletics Federations unless she agreed to take medication to lower her testosterone levels so they fell within the range average for women.
Testosterone levels for an average woman range from between around 0/1 and 1.8 nanomoles per litre of blood (nmol/L). For men, this ranges from about 8-35nmol/L.
Semenya, a double Olympic champion, naturally has testosterone levels above the average woman. This is the result of a group of rare disorders that leads to elevated testosterone levels. These disorders are around 140 times more common among female athletics than in the general population.
Earlier this year, the IAAF said that to compete, female athletes must have testosterone levels below 5nmol/L. If their levels are higher than this, they must take medication to reduce the levels if they want to compete in order to ensure fairness. Semenya, the IAFF believes, had an unfair advantage over other competitors. The decision was widely criticised and remains controversial, raising ethical questions about discrimination.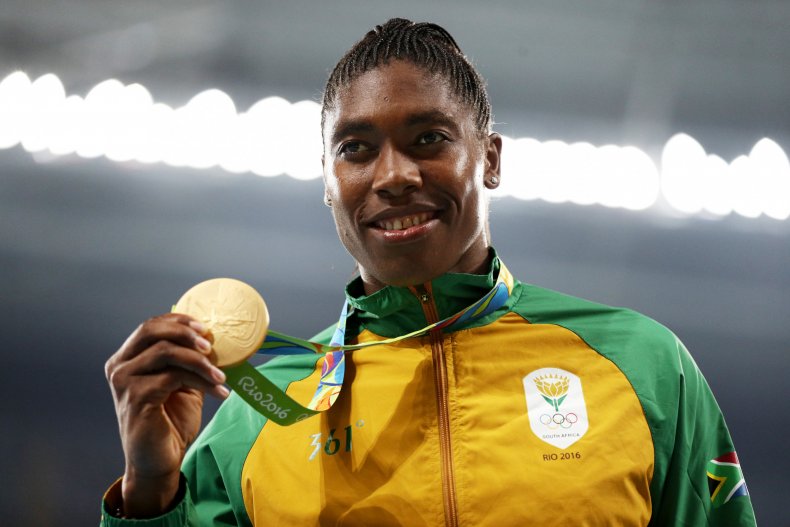 However, whether or not higher testosterone levels actually impacts physical performance for female athletes is unclear, with little research into the association between the hormone and its muscle mass and strength. In a study published in the British Journal of Sports Medicine, researchers led by Angelica Linden Hirschberg, from the Department of Women's and Children's Health at the Karolinska Institutet in Stockholm, Sweden, has now provided evidence to suggest testosterone increases women's ability to run.
In their 10 week study, the team recruited 48 women aged between 18 and 35. They gave half a testosterone cream that would increase their levels of the hormone, while the other group was given a placebo. Over the weeks that followed, researchers tested the women's physical performance by having them run on a treadmill until the point of exhaustion. They also took measurements of their muscle mass and strength.
Hirschberg told Newsweek there are limitations to the research. "The dose was not high enough to reach the male range in testosterone," she explained. "The treatment period was also rather short in order to not risk serious side effects. Furthermore, the subjects were well-trained but not elite athletes."
However, she also noted that this kind of study has never been performed before—and understanding the degree of enhancement is important, especially given the controversy surrounding testosterone levels among female athletes.
"We do not know exactly how many cases are affected but it was estimated that the occurrence of these disorders is 140 times more common among female athletics than in the general population," Hirschberg said. "The thing is that a single case can have an enormous impact on one discipline for a long period of time."
Discussing the implications, she added: "This is a very complicated issue with many aspects to consider, not at least ethical ones. I support a regulation for fairness in women's sports but we have to be ready to modify it depending on new knowledge and practical experience."
Correction 10/16 5.30 a.m. This article previously said the research was published in the BMJ.