'Tetris 99' Tournament Rules: Start Time, Prizes and Everything You Need to Know About the Maximus Cup
Start practicing your T-Spins, because the first Tetris 99 online event is here, and it's a downright brutal fight to be in the top 999 players across three countries. The Maximus Cup is the first online event for the newly launched online competitive puzzle game. To participate in the Maximus Cup tournament, all you'll need is Tetris 99 and a Nintendo Switch Online membership, which costs $3.99 a month or $19.99 a year.
Tetris 99 was released for the Nintendo Switch on February 13. It's a free-to-play multiplayer game, pitting you against 98 other players in a rapid-fire elimination round of the Soviet classic, Tetris. In addition to classic Tetris gameplay, Tetris 99 players must attack others and defend themselves against getting flooded with Garbage Blocks sent by other players. For more on how to play Tetris 99, including controls, advanced strategies and how to collect attack-empowering badges, check out our how to play guide.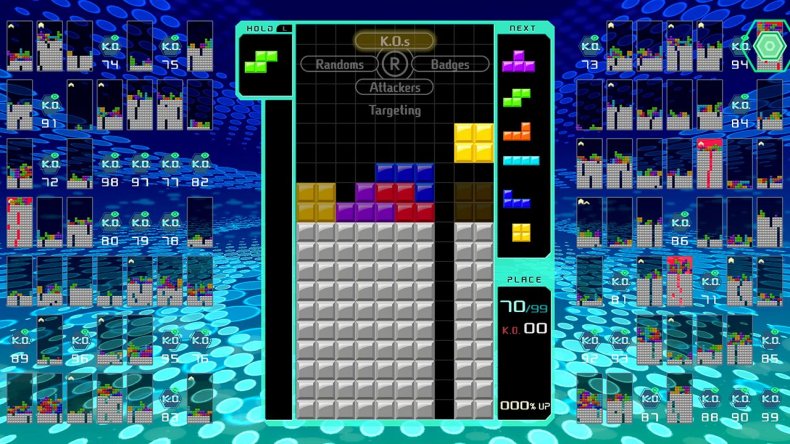 Here's everything you need to know to take part (and win!) in the Tetris 99 Maximus Cup.
Tetris 99 Maximus Cup Start Time
The Tetris 99 Maximus Cup begins Friday at 5:00 a.m. PST, with the tournament concluding at 11:59 p.m. on Sunday March 10—three days in which players must rack up as many victories as possible
Tetris 99 Maximus Cup Rules
The main objective of the Maximus Cup is simple, here's how Nintendo describes: "Win first place as many times as you can!"
The Maximus Cup is built around what Nintendo's calling Tetris Maximus wins, defined as getting first place in a round of Tetris 99. After each win, you'll see "Tetris Maximus" on the results screen. Anything but first place doesn't contribute to winning the tournament.
The 999 players with the highest tally of Tetris Maximus wins at the end of the contest period will be tournament winners. Ties will be decided by the player with the faster time in their last Tetris Maximus win round.
Tetris 99 Tournament Winners and Prizes
There will be 999 winners of the Tetris 99 Maximus Cup, to be announced on or about March 24. All 999 will win the same prize: 999 My Nintendo Gold Coins (retail value: $10).
The tournament is open to residents of the United States, Canada and Mexico. Participants must be at least 13 years old to be eligible (18 for residents of Mexico). The full tournament rules for the Tetris 99 Maximus Cup are available on Nintendo's official site.