Texans Became Less Worried About COVID-19 Pandemic as Cases Surged: Poll
Texans became less worried about the COVID-19 virus pandemic as cases surged in late June, a poll has revealed.
The YouGov poll for the Texas Politics Project at The University of Texas at Austin involved 1,200 registered voters in the state, and was conducted between June 19 to 29.
Compared with a survey in April, the percentage of Texas who said they were "extremely" or "very" concerned about the virus' spread in their community fell from 54 percent in April to 47 percent in June.
The number who said they were "living normally, coming and going as usual" more than doubled, from 9 percent to 19 percent. The proportion of respondents who said they were only leaving their homes when "absolutely" necessary fell from 63 percent in April to 37 percent in June.
Fifty-seven percent perceived the pandemic as a "significant crisis," compared with 66 percent in April. When responses to this question were broken down according to political affiliation, the attitudes of Democrats and independents' changed little, while the share of Republicans who held this view dropped from 48 to 29 percent. Almost a quarter (23 percent) of Republicans viewed COVID-19 as a minor problem or not a problem at all, up from 7 percent in April.
Most Texans were following measures in response to COVID-19 recommended by the health authorities, with 90 percent washing hands more frequently, 88 percent keeping out of large groups, 80 percent avoiding others as much as possible, and three quarters trying not to touch their face. But almost one in five said they were not following public health advice.
The poll, conducted four days before Texas Gov. Greg Abbott signed an executive order on wearing face masks, found 81 percent wore a mask when in close contact with people from outside their home. Of those who didn't wear a mask, 31 percent were Republican, 5 percent Democrats, and 18 percent independent. 7 percent of African American and 12 percent of Hispanic/LatinX voters said they did not wear a mask, compared with a quarter of white Texans.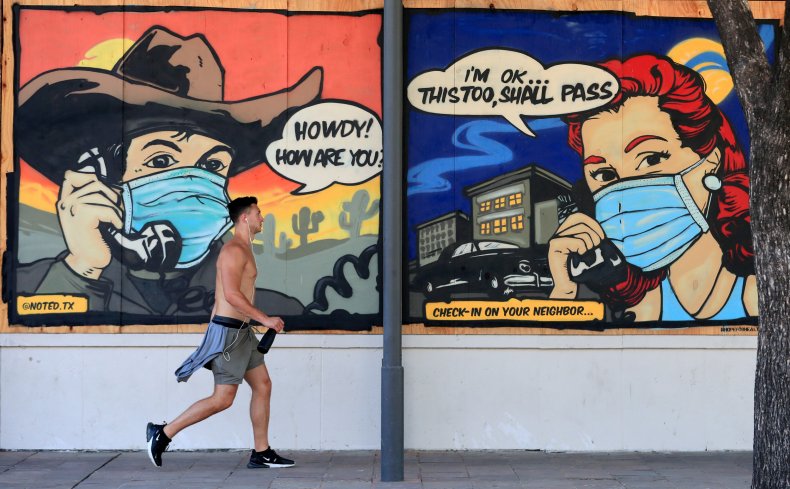 James Henson, director of the Texas Politics Project and co-director of the poll, said in a statement: "Although it's safe to assume that fatigue with staying at home is a widespread feeling, we saw much larger decreases in concern and reported limiting of public behaviors among Republicans than we did among Democrats."
When it came to vaccination, 59 percent of respondents said they would get one to prevent COVID-19 if and when it becomes available, but 21 percent would not, and 20 percent were undecided.
In terms of COVID-19's financial effects, just over half of Texans (53 percent) said they would prioritise controlling the spread of the coronavirus despite this affecting the economy, while 38 percent took the opposite view.
Quizzed on leadership amid the worst public health crisis of a generation, the percentage of Texans who said attempts in their state to deal with the pandemic were going badly spiked from 29 to 51 percent in April, and those who thought it was going well dropped from 66 to 29 percent. Considering the national response, over half (51 percent) said it was going badly, versus 40 percent in April. There was also a drop in those describing it as going well, from 56 to 46 percent.
Some 44 percent approved of President Donald Trump's handling, while 49 percent disapproved, down four points since April. Republicans were more likely to strongly approve of the president's response, and Democrats more likely to disapprove strongly. Gov. Abbott was given a 49 percent approval rating over the crisis, down seven points from April, versus 41 percent who disapproved, up 12 points.
Henson said: "The crosscurrents in Texans' attitudes evident in the poll results illustrate why it has been so difficult to navigate the politics necessary to mount a consistent, sustained response to the pandemic.
"Because basic understandings of the pandemic are increasingly shaped by partisanship, we are in a moment in which large swaths of the public are both critical of the government response and seemingly unwilling to change their own behavior in the name of public health."
Texas is among states in the south and west to have been hit by a spike in COVID-19 cases in recent weeks. The state averaged 6,121 new diagnoses every day for the past 14 days. According to a New York Times database, 219,164 coronavirus cases have been reported in Texas, and 2,816 people have died.
As show in the graph by Statista below, Texas is among states which don't appear to have flattened the curve of rising COVID-19 cases.