The U.S. National Hurricane Center upgraded Tropical Storm Hanna to a hurricane Saturday morning.
Hurricane Hanna marks the first hurricane of the 2020 Atlantic season as it moves toward the Texas coast. On Saturday, the storm was centered about 100 miles east-southeast of Corpus Christi, Texas, and was moving west at 9 mph.
Storms of hurricane strength are defined as being at least 74 mph. While Hanna barely made the threshold of a Category 1 hurricane Saturday morning, forecasters said it would gain strength as it travels to the coast.
As of Saturday afternoon, the storm had yet not made landfall but was producing up to 85 mph sustained winds, the Hurricane Center reported. A storm must produce at least 96 mph winds before it is upgraded to a Category 2 hurricane.
Wind gusts are expected to reach up to 95 mph, KXAN News's David Yeomans said Saturday from North Padre Island, just offshore of Corpus Christi.
The Hurricane Center said it expected Hanna to make landfall on the Texas coast either Saturday afternoon or evening. Rapid weakening is expected after Hanna moves inland, according to the Center.
"The combination of a dangerous storm surge and the tide will cause normally dry areas near the coast to be flooded by rising waters moving inland from the shoreline," the Hurricane Center said.
The National Weather Service's (NWS) forecast office Corpus Christi posted a video Saturday on its Twitter account showing the storm surge at Whitecap Beach. Water had already passed the dunes and would soon threaten the nearby highway, according to the post.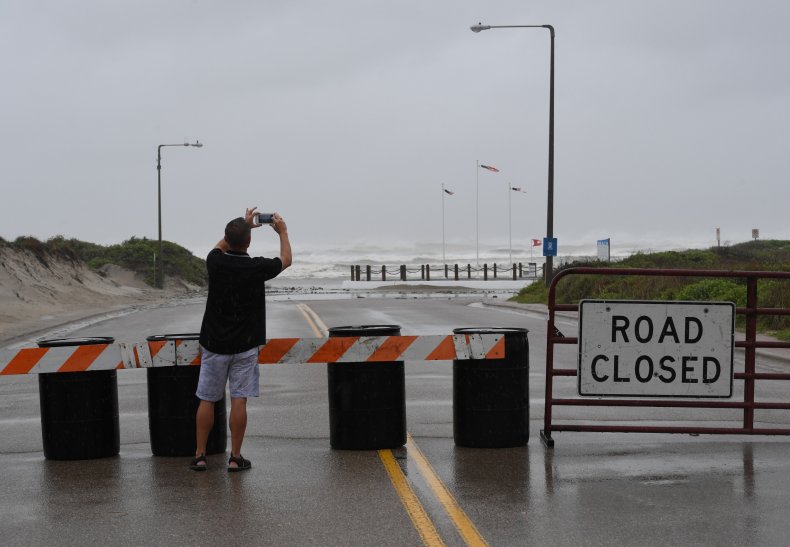 A hurricane warning is in effect for Port Mansfield to Mesquite Bay, Texas, with a tropical storm warning still in effect for Barra el Mezquital, Mexico, to Port Mansfield, Texas, and for Mesquite Bay to High Island, Texas.
Tornadoes were also possible Saturday for parts of the Texas coastal plain, forecasters said. They predicted Hanna could bring 6 to 12 inches of rain through Sunday night and coastal swells producing life-threatening rip currents.
A video posted Saturday morning to meteorologist Reed Timmer's Twitter account showed darkening skies. "Tornado threat increasing as well," Timmer wrote.
A storm surge warning was extended further south Saturday, now in effect from Baffin Bay, Texas, to Port Mansfield. Storm surge up to 5 feet was forecast for that area, with officials advising residents to protect life and property from high water.
Forecasters first announced Hanna as a tropical storm in the Gulf of Mexico Thursday night, but the storm has since gained momentum as it continued moving toward land.
In preparation for the storm, Corpus Christi's Nueces County officials closed all beaches for the weekend and asked residents not to use pedestrian access to the beaches.
The "greatest threat" to the area is heavy rainfall throughout the weekend, which could lead to "dangerous flooding," according to an infographic posted to the NWS Corpus Christie Twitter account.
The Texas Department of State Health Services warned all residents who might be affected by the hurricane in a tweet Saturday to "prepare for #COVID19 if evacuated or in crowded quarters," advising people to bring multiple masks and hand sanitizer with them.
According to a White House coronavirus report dated July 14, Nueces County was the seventh-worst county for case numbers out of the state's total 254 counties.
Hanna is not the only hurricane threatening the U.S. this weekend. Two other storms, Hurricane Douglas in the Pacific Ocean and Tropical Storm Gonzalo in the Atlantic, are approaching landfall.
Hurricane Douglas peaked as a Category 4 storm early Friday and is now a Category 3, with winds of 115 mph. Forecasters expect it to weaken to either a Category 1 or tropical storm as it approaches Hawaii.
Tropical Storm Gonzalo is expected to hit the southern Winward Islands in the Caribbean Saturday as a weaker storm, bringing heavy rainfall and strong winds.
Updated 5:10 PM ET.