Texans Cut Off From Abortion Access in Oklahoma After State Bans Procedure
Oklahoma, a state which once served as a refuge for Texans seeking an abortion, has approved a bill to make pregnancy termination illegal.
In response to Texas enacting an abortion restriction in September 2021, banning the procedure after six weeks of pregnancy, many Texans fled to abortion clinics in Oklahoma. But Oklahoma passed a bill Tuesday that would make performing an abortion a felony if it isn't conducted to save the mother's life, making it harder for citizens in both states to get the procedure.
Oklahoma's GOP-controlled House voted 70-14 to send the bill to Republican Governor Kevin Stitt, who previously said he'd sign any anti-abortion bill that comes to his desk, according to the Associated Press. Once signed, the bill would make performing abortions illegal, punishable by up to 10 years in prison and a $100,000 fine.
"Oklahoma is going from a state where we've been a haven for refugees who've needed support to a state that has chosen to make refugees of its own citizens," said Emily Wales, interim president and CEO of Planned Parenthood Great Plains, which operates clinics in Oklahoma, Arkansas, Kansas and Missouri.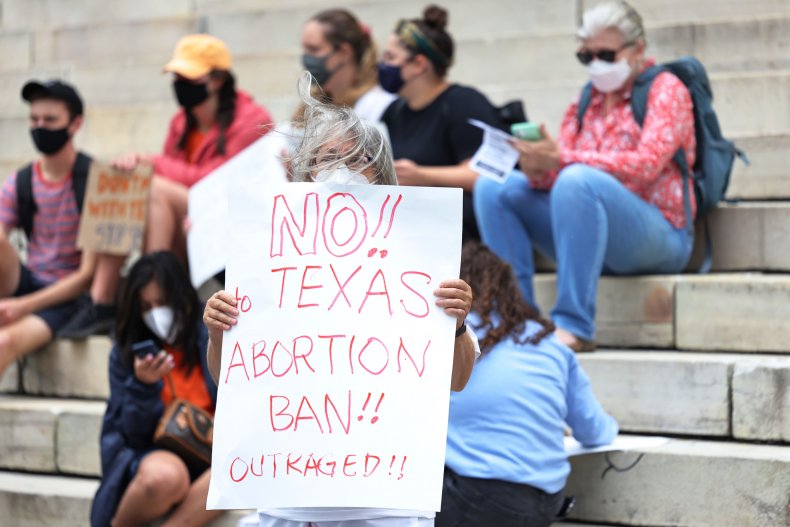 Since Texas passed the ban, residents received abortion care in other states including Oklahoma, Arkansas and Mississippi. Between September and December of last year, an average of 1,391 Texans per month obtained abortions at these out-of-state facilities, with monthly totals from 1,330 to 1,485, according to a study from the Texas Policy Evaluation Project at the University of Texas at Austin.
Nearly half of Texans that traveled out of state for abortions went to Oklahoma. The number of Texans seen at the four abortion clinics in that state is more than twice the monthly average of all abortion patients seen there in 2020, the study noted.
"Senate Bill 8 has not reduced the need for abortion care in Texas. Rather, it has greatly reduced in-state access and forced thousands of pregnant Texans to undertake long-distance trips to reach abortion facilities in other states," the study revealed. "Out-of-state travel, in turn, has meant forgoing the emotional, logistical—and even medical— support that could be found closer to home."
Planned Parenthood officials say that Oklahoma's abortion ban isn't just a state issue, but a national one since many patients are from out of state.
Oklahoma's bill passage came the same day that more than 100 people attended a "Bans Off Oklahoma" rally outside the state Capitol in support of abortion rights.
"These legislators have continued their relentless attacks on our freedoms," said Wales. "These restrictions are not about improving the safety of the work that we do. They are about shaming and stigmatizing people who need and deserve abortion access."
Newsweek reached out to Planned Parenthood and Stitt for comment.