Texans' J.J. Watt Criticizes News Station for Headline That Fails to Include Fiancée Kealia Ohai's Name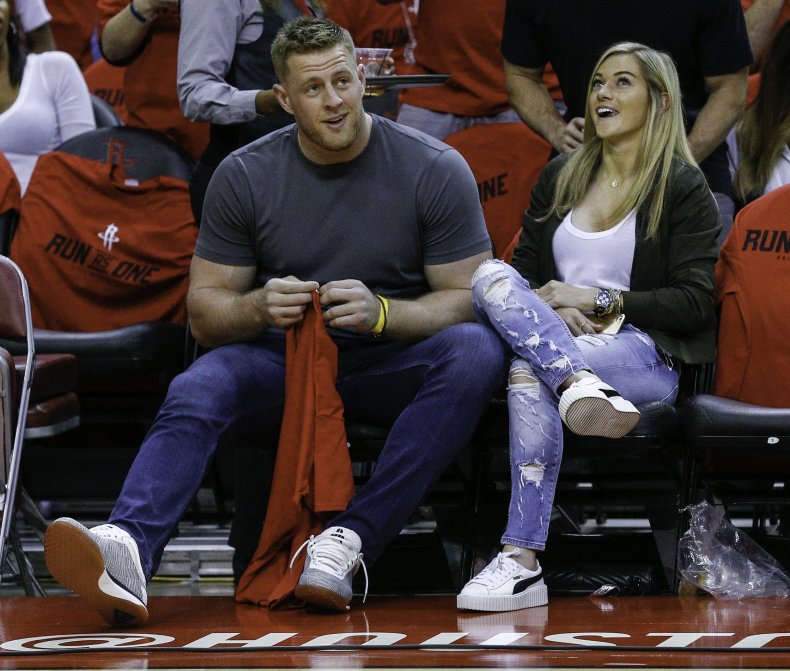 On Tuesday, Houston Texans star J.J. Watt responded to a news station that referred to Kealia Ohai as his fiancée instead of by name.
"This headline is trash," Watt wrote on his Twitter account. "Kealia Ohai (which is her name by the way, since you didn't even bother to mention it) is incredible entirely on her own merit and deserves to be treated as such. Be better than this."
Watt's response is directed at a story published by ABC13 Houston, regarding Ohai being traded from the Houston Dash to the Chicago Red Stars, two teams in the National Women's Soccer League.
Ohai's name is included in the story published by ABC13, but the headline refers to her as Watt's fiancée.
As a member of the Dash, Ohai played in 114 matches, starting in 108 of them, while also setting a franchise record with 28 goals. She also served as the team's captain for the past three seasons.
Despite Ohai being traded away from Houston, where Watt plays, the defensive end tweeted his support for Ohai's move to Chicago.
"Very proud of you and excited for you!!" Watt wrote. "I'll hold it down here, you dominate in Chicago."
Watt also posted another tweet that included a picture of him sporting Ohai's new team logo, with a caption that read, "Here for it!!! Let's go @KealiaOhai!!! So excited for you."
Watt's criticism of the headline isn't the first time an athlete has blasted the media for omitting the name of their significant other in a headline.
During the 2018 Women's World Cup, Julie Ertz, a member of the U.S. Women's National Team and wife of Philadelphia Eagles' tight end Zach Ertz, was referred to in a tweet as his wife instead of by name.
"Eagles tight end Zach Ertz leaves training camp to watch wife in World Cup," CBS News wrote as a headline in a tweet.
The failure to include Julie Ertz's name sparked reactions from both the Eagles and Zach Ertz.
"#TouchdownTuesday featuring Julie Ertz's Husband," the Eagles wrote on their Twitter account.
"A freaking BALLER and her husband," Ertz wrote on his Twitter account with a picture of the two.
Watt's support for Ohai and criticism of the recent headline come just a few days after he helped lead the Texans back from a 16-point deficit against the Buffalo Bills, moving the team on to the American Football Conference (AFC) Divisional round game, against the Kansas City Chiefs, on January 12.