Texas 4-Year-Old Shoots 7-Month-Old Baby in Apparent Accident
A 7-month-old baby is in the hospital after being accidentally shot by a 4-year-old at a house in Temple, Texas.
The condition of the infant is unknown following the shooting at a house in the 300 block of South 25th Street at around 2:31 p.m. local time. KWKT-TV reported that the baby was conscious and breathing when it was taken to McLane Children's Hospital.
There were conflicting reports as to whether the 7-month-old was a boy or a girl. The Temple Police Department is expected to give further information on the incident later today.
Police said they received a 911 call from a woman at the house who is believed to be the mother of one or both of the children. Shawana Neely, a spokeswoman for the Temple Police Department, said that the woman was the only adult inside the property at the time.
Details are still scant at this stage, including what type of weapon was used or how the 4-year-old got hold of it. Police have so far only said the shooting appeared to be an accident that took police inside the home.
KWTX-TV reported that there was a sign outside the home in Temple that warned people of weapons inside. The sign reads: "The average response time of a 911 call is 23 minutes. The response time of a .357 is 14 hundred feet per second."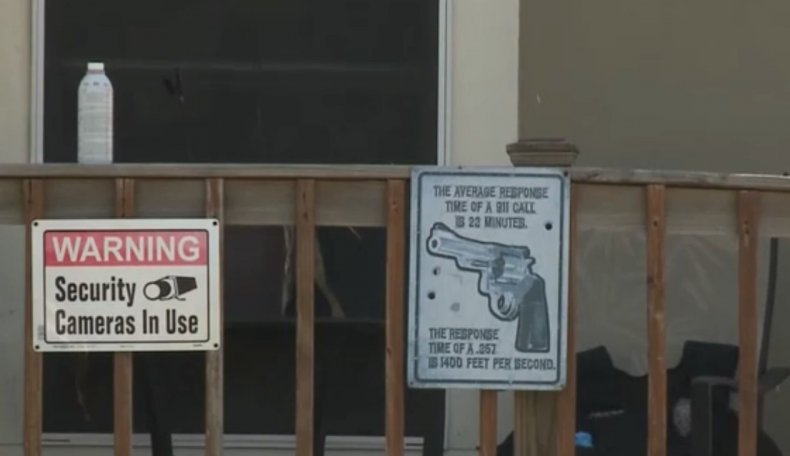 Temple resident Bradley Martin described the scene as the baby was taken away by emergency services. "[The baby] just looked lifeless in his hands," he said. "There was blood all over [the infant]. They put [the baby] in the back of an ambulance and took off down the road."
Neighbor Adrian Martinez said he did not blame the family for what occurred.
"I'm not there to judge them, but in my family, it happened once with my cousin," Martinez told KXXV. "My cousin killed accidentally my other cousin. It happens. Accidents happen."
"I hope the baby's OK, and I hope the family is going to be alright," said Ami Fontenot, another resident. "And if they're going to have guns, take precautions, obviously."