Seven Texas-based reproductive rights groups are considering a defamation lawsuit against a Republican lawmaker who called them "criminal organizations" and accused them of violating the state's abortion laws.
A lawyer representing the organizations, which provide funding and other support for women seeking abortions, sent a sharply worded letter to Texas Republican state Representative Briscoe Cain on Thursday. The letter containing the threat of litigation is the latest legal wrangling over a renewed effort by Texas lawmakers to restrict abortion.
The letter, from attorney Jennifer Ecklund, is a response to a cease-and-desist letter Cain earlier sent to abortion funds in Texas, instructing them to stop their operations or risk criminal prosecution.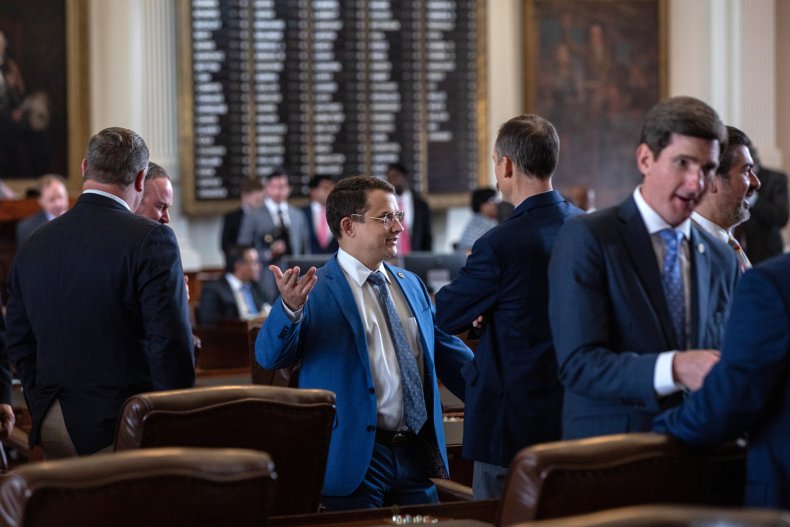 "Your letters falsely accuse our clients of engaging in criminal acts by funding abortions in any situation in which the mother's life is not in danger," Ecklund said in her letter. "This accusation, which you have made public by publishing the letters on social media, is objectively false, and has been for almost 50 years."
The abortion law, Senate Bill 8, was passed by Texas' Republican-dominated Legislature last year. It outlaws abortions after heart activity has been observed in the embryo. Instead of relying on state officials to enforce the law, SB 8 instead relies on private citizens for enforcement by giving them grounds to sue clinics, doctors or others who help provide an abortion after the cutoff.
The U.S. Supreme Court has allowed Texas' law to stay in place, and other red states have enacted similar laws.
"It is a crime to pay for another person's abortion in Texas, and anyone who gives money to these abortion funds will be prosecuted," Cain said in a press release earlier this month announcing the cease-and-desist letters.
Additionally, Cain's letter said the organizations were violating older law criminalizing abortion in Texas that remain on the books, despite the Supreme Court's 1973 Roe v. Wade decision establishing a constitutional right for the procedure. In a tweet earlier this month, Cain pointed to a provision of SB 8 stating that Texas never repealed its anti-abortion laws that punish those found guilty with two to five years imprisonment.
In her response, Ecklund said the law cited by Cain had been struck down by the Supreme Court.
"Laws that are repugnant to the Constitution are void and of no effect, and do not create crimes or criminal liability, as the United States and Texas Supreme Courts have repeatedly explained," she wrote, later adding, "Your unfounded criminal accusations are also defamatory."
Ecklund demanded Cain retract his claims that the abortion funds have committed any crimes. If not, she said her clients "will have no choice but to explore all legal options," which could include a lawsuit.
Ecklund wrote the letter on behalf of the North Texas Equal Access Fund, Lilith Fund for Reproductive Equity, The Afiya Center, Frontera Fund, The West Fund, Clinic Access Support Network and Fund Texas Choice.
Newsweek has reached out to Ecklund and Cain.