Texas Abortion, Voting Laws Spur Relocation Offers, Majority Feel State on Wrong Track
The recent wave of restrictive anti-abortion and voting regulation laws passed in Texas have spurred offers attempting to woo residents and businesses away from the Lone Star State. Those overtures come as a growing number of Texans feel that their state is heading in the wrong direction.
Chicago attempted to woo away businesses and residents put off by the new legislation with a new full-page ad set to run in the Dallas Morning News on Sunday, according to Bloomberg.
"We believe that the values of the city you are doing business in matters more than ever before," Michael Fassnacht, CEO of World Business Chicago, a public-private economic development agency for the Second City, said in a statement emailed to Bloomberg on Friday.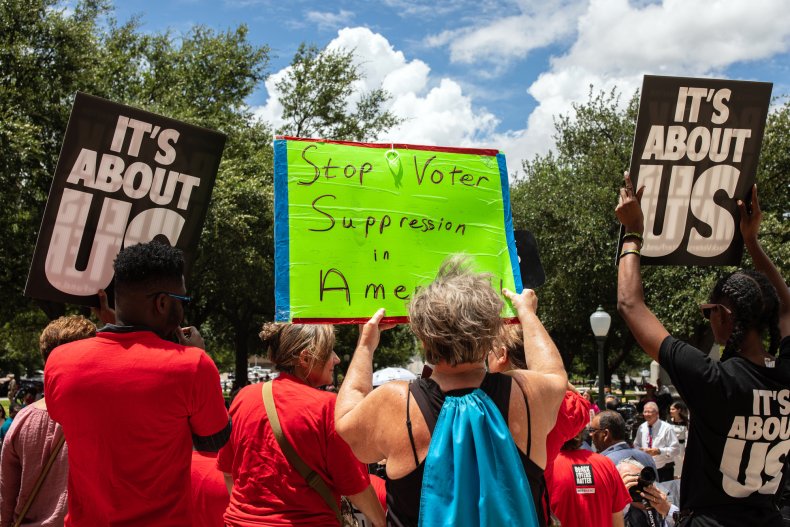 In addition to Chicago, Connecticut has also made efforts to attract Texas businesses and workers. On Friday, Connecticut Democratic Gov. Ned Lamont released a video statement welcoming companies potentially moving to his state.
While he did not mention Texas or any Texan politician by name, the implication was clear. The tweet with the video also dubbed it "a message to all businesses in states that are restricting the rights of women and aren't putting families first with their policies."
"We don't have oil and natural gas, but we have one of the most productive, best trained, most innovative workforces in the world," Lamont said in the clip.
In addition to city and state governments, some businesses are also stepping up to help employees based in Texas who are considering moving to another state soon. In particular, Salesforce has said that it will help employees and their families relocate somewhere else, according to a Slack message sent by the company on Friday, although not explicitly taking a stance on the Texas anti-abortion law in question.
"These are incredibly personal issues that directly impact many of us — especially women," Salesforce said in the message, according to CNBC. "We recognize and respect that we all have deeply held and different perspectives. As a company, we stand with all of our women at Salesforce and everywhere... With that being said, if you have concerns about access to reproductive healthcare in your state, Salesforce will help relocate you and members of your immediate family.
With these restrictive new voting laws on the books, Texas Republican Gov. Greb Abbott has seen his approval rating dive to 50 percent, according to a recent poll from the University of Texas at Austin. Furthermore, 52 percent of respondents from the same survey said that they believe the state is headed in the wrong direction.
Newsweek has reached out to Abbott's office for a comment on this piece.