Texas Abortion Ban Back In Effect As Court Lifts Injunction
Texas Attorney General Ken Paxton asked the Fifth Circuit Court of Appeals to lift the temporary injunction prohibiting the state's six-week abortion ban and allow it to remain in place during the appeals process Friday, and the court granted his request later in the evening.
Many anticipated Paxton's request, which came two days after U.S. District Judge Robert Pitman forbid Texas judges and court clerks from accepting lawsuits filed under Senate Bill SB 8, and speculate that Pitman's ruling will be quickly overturned by the court.
The Fifth Circuit is often considered the most conservative in the country. They issued a temporary, administrative stay of Pitman's preliminary injunction to consider the state's request for a longer-term stay. This allowed the abortion ban to once again take effect.
The Department of Justice (DOJ) has until Tuesday to respond to Texas' request. Following the outcome, the law will likely go on to be debated in the U.S. Supreme Court.
In Paxton's motion, he asked that an emergency hold put be on Pitman's order by Tuesday. He also asked that an administrative hold be placed on it as soon as possible.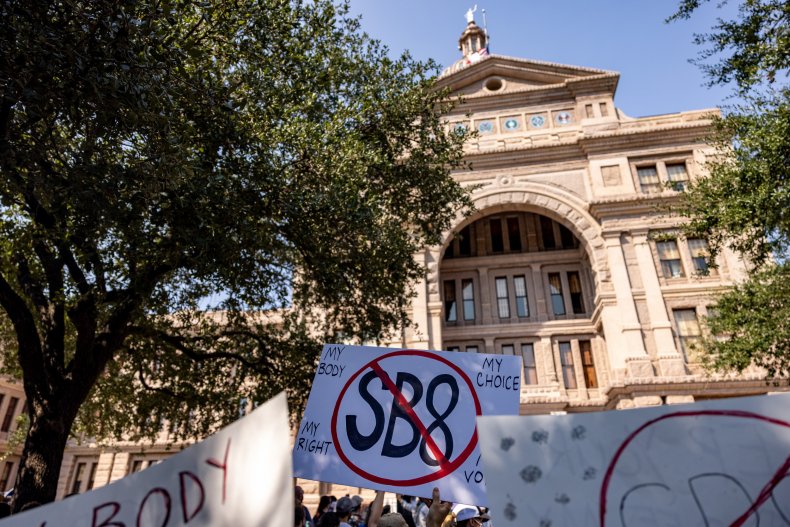 "This Court's immediate intervention is necessary to vindicate Texas's sovereign interest in preventing a single federal district court from superintending every Texas court," court documents read.
"There is no precedent for the district court's injunction; it grossly and irreparably interferes with Texas state-court operations. It also places state courts and their employees under imminent threat of contempt based on the actions of third parties that they cannot control," the filing said.
Some abortion clinics in the state resumed following Pitman's order but they still face legal risk if the court order is reversed later.
SB 8 is not enforced by state authorities but through private citizens suing those who have assisted women in getting abortions. Under the law, abortions are banned once fetal cardiac activity is detected—usually, around six weeks of pregnancy, which is before most people even know they're pregnant.
Opponents of the bill argue the novel enforcement mechanism was specifically designed to make it more difficult for courts to injunct or strike down the law.
Pitman's ruling was a way to get around the state's method and ordered them to put it on all public court websites with clear instructions that SB 8 lawsuits will not be accepted.
"A person's right under the Constitution to choose to obtain an abortion prior to fetal viability is well established," wrote Pitman. "Fully aware that depriving its citizens of this right by direct state action would be flagrantly unconstitutional, the State contrived an unprecedented and transparent statutory scheme to do just that."
Texas argued during Wednesday's court proceedings that issuing an injunction against people who could not be heard at trial during the case would be unfair and that the federal government has no authority to sue the state.
Clinics in the state previously challenged the ban in the Fifth Circuit but the appeals court declined the lawsuit as did the Supreme Court.
Paxton requested that the court review his request by Tuesday, October 12, or the earliest available date.
Update (10/08/2021, 10:16 p.m. ET): This article has been updated to reflect that the stay was granted.