Texas AG Ken Paxton Given 4 Days to Produce Records Tied to Jan. 6 Rally Appearance
Texas Attorney General Ken Paxton has four days to produce communication records in regards to his Jan. 6 appearance at a rally supporting former President Donald Trump before the Capitol riot last year, according to a letter from the Travis County District Attorney's Office.
The letter, written by Jackie Wood, director of public integrity and complex crimes at the district attorney's office, says Paxton violated Chapter 552 of the Texas Government Code. The letter was hand-delivered to Paxton on Thursday, the Austin American-Statesman reported.
The letter is in response to complaints from Maria Reeve, Karisa King, Marc Duvoisin, Steve Coffman, and Manuel Garcia, the letter says. All are top editors from several of Texas' largest newspapers, such as the Austin American-Statesman, Dallas Morning News, Fort Worth-Star Telegram, Houston Chronicle, and San Antonio Express-News, according to the Austin American-Statesman.
The letter details three allegations from the complainants. They alleged that Paxton is "improperly withholding his communications as attorney-client privileged documents," that he is failing to hand over "communications related to official business exchanged on his personal devices," and he is handing over "communications from other individuals as his own in response to public record requests."
The Texas Public Information Act provides the public with the right to public records, even if they are kept on the online accounts of a government official or on personal devices, J News reported. Under this law, the information requested must be handed over, the letter says.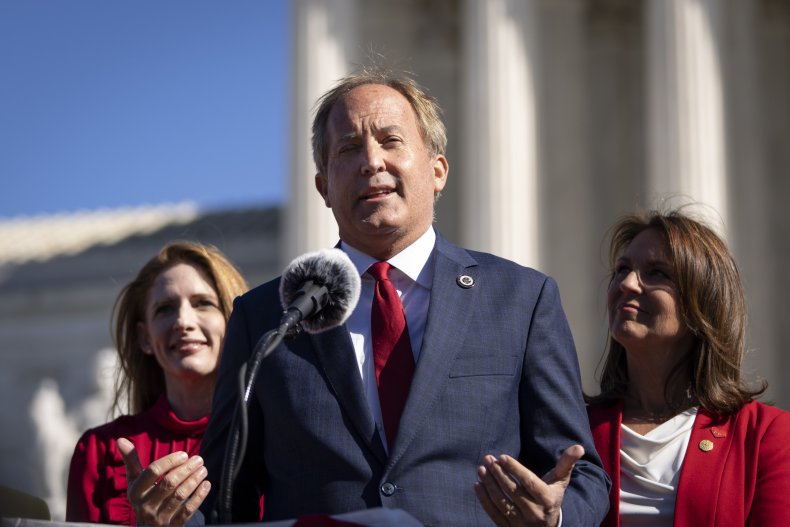 The allegations involve emails and texts that Paxton sent involving work, according to the letter. The first allegation involves communications Paxton sent from Jan. 5 to Jan. 13, 2021, the letter says. Each allegation involves a request where Paxton failed to provide information fulfilling the request.
Should Paxton fail to "cure this violation" within four days, the district attorney's office will seek civil litigation "seeking injunctive and declaratory relief," according to the letter.
Alejandro Garcia, Paxton's director of communications, said in an email to Newsweek that Paxton and the officers and employees of his office have not violated the Texas Public Information Act.
"This is a fake controversy drummed up by hard-left local officials because they want to reignite hysteria about the attorney general's political speech on January 6, 2020, which was not an official state activity," Garcia said in the email. "Our agency has complied and will continue to comply with all state and federal law regarding public transparency. Travis County officials are wasting everyone's time and money with this non-issue."
The Travis County District Attorney's Office declined to comment.
The attorney general has also been accused of abuse of office, bribery, and other crimes in service of another supporter, according to The Associated Press. The supporter is an Austin real estate developer that staffed a woman the attorney general allegedly had an extra-marital affair with. The FBI is investigating the allegations.
Paxton also has been charged with three counts of state securities fraud, AP reported. He pleaded guilty to them in 2015 but has not faced trial for them yet.
Update 01/14 9:30 PM: This story was updated to reflect a correction to show that the Travis County District Attorney had declined to comment, as well as new comments from Attorney General Ken Paxton's Director of Communications, Alejandro Garcia.