Texas Attorney General Ken Paxton has rejected a demand made January 14 by the Travis County District Attorney's office insisting he turn over public records within four business days related to his appearance at former President Donald Trump's January 6 rally before the attack on the U.S. Capitol. The refusal to cooperate could lead to a lawsuit.
Paxton's office sent his refusal in a letter responding to the district attorney, first reported by The Texas Tribune, that maintains the position held by Paxton's office that he has done nothing wrong and has not violated the state's open records laws.
The request from the district attorney's office said that if Paxton did not produce the records, he could face a lawsuit over alleged violations of the state's open records law, according to The Associated Press.
Last March, six Texas news outlets published a story questioning whether Paxton was violating the law by refusing to release certain records like text messages and emails surrounding his time in Washington D.C. before and after his speech on January 6.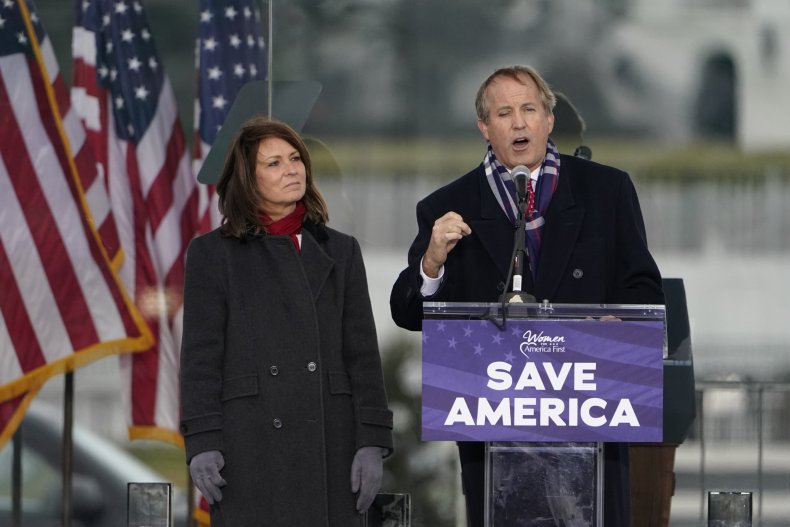 Earlier this month, top editors from the Austin American-Statesman, The Dallas Morning News, the Fort Worth Star-Telegram, the Houston Chronicle and the San Antonio Express-News filed the complaint with the Travis County District Attorney that led to the demand that Paxton has now refused.
In his letter refusing the request, Paxton's office said the complaint from the newspaper editors is based on "awareness of a small number of inconsequential documents they believe should have been produced" through their public records requests, The Texas Tribune reported.
Texas public records laws grant the public the right to government records upon request, even if they are on a personal device or an online account of a public official, according to The Tribune.
"This is a fake controversy drummed up by hard-left local officials because they want to reignite hysteria about the attorney general's political speech on January 6, 2020, which was not an official state activity," Paxton's director of communications Alejandro Garcia said in an email to Newsweek last week in response to the request from the Travis County District Attorney. "Our agency has complied and will continue to comply with all state and federal law regarding public transparency. Travis County officials are wasting everyone's time and money with this non-issue."
The newspapers claimed in their complaint to the district attorney that Paxton's office was using attorney-client privilege as a means to withhold communications from around January 6, the Tribune reported.
Paxton, a Republican, is facing a re-election fight this year with several Democrat and Republican challengers. In 2020, several former aides and deputies accused Paxton of misusing his office and bribery to help a supporter, a real estate developer who employs a woman Paxton allegedly had an affair with, according to The Associated Press.