Texas AG Ken Paxton's Office Says Whistleblower Protections Don't Extend to His Accusers
Texas Attorney General Ken Paxton's office says whistleblower claims against him should be thrown out because he's technically not a state "employee," but rather an "elected official."
The embattled attorney general stands accused of widespread bribery and corruption claims from eight former staffers in his office. Four of them say they were fired after reporting Paxton's numerous illegal activities to the FBI and Texas Rangers last year—a move which is illegal under the protections of the Texas Whistleblower Act.
But Paxton's office on Monday unsuccessfully tried to convince a Travis County judge that Paxton is not actually an employee of the Office of the Attorney General. Instead, lawyer William Helfand argued Paxton is an "elected official" whose alleged bribes of a campaign donor should not be subject to a whistleblower lawsuit.
The whistleblower claims against Paxton include him getting a job for his mistress as a construction manager and going to "bizarre" lengths to investigate a federal magistrate who wronged a top donor of his in August 2019.
"The Texas Whistleblower Act does not extend its protection to reports of unlawful conduct made about a state elected official," Helfand said at Monday's hearing in an attempt to get Travis County District Judge Amy Clark Meachum to dismiss the case against the attorney general.
"The idea that an office created to do the work of the constitutionally created office of attorney general makes that person an employee of the Office of the Attorney General borders on the absurd," Helfand continued. He acknowledged that Paxton is listed as an employee of the Office of the Attorney General, but it is not his "employer," rather the office was created to serve him as the elected attorney general.
"Where does your argument end? Are you saying it does not apply to any other public official? It almost seems your exception would swallow the rule," Judge Meachum replied. "If it does not apply to any public official or any elected official ... who does it apply to?"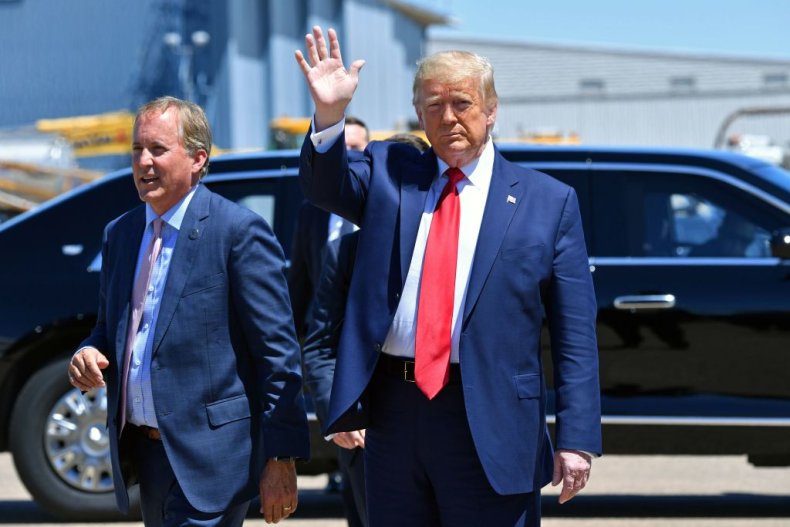 Meachum moved forward with Monday's hearing and did not rule on the attorney general's office move to dismiss the whistleblower lawsuit entirely. But late Monday night, the Texas Third Court of Appeals ruled in favor of Helfand on behalf of Paxton's office, granting a postponement on potentially damning testimony from occurring this week.
Monday's hearing was meant to determine if two of the fired whistleblowers, who were on-hand to provide testimony, should get their jobs back. But a Texas court ultimately handed a minor victory to the attorney general's office late Monday night and postponed potentially damning testimony from occurring this week.
The four whistleblowers sued the Office of the Attorney General last November, saying their good-faith reporting of a tangled web of alleged bribery and corruption was allowed under the Texas Whistleblower Act. The FBI issued subpoenaed Paxton in December over the abuse of power claims that he was investigating the enemies of GOP campaign donor Nate Paul.
Counsel for lead plaintiff and former deputy attorney general James Brickman, who was fired by Paxton in October after going to the FBI, called Paxton's defense "absurd."
"You could not script more obvious retaliation against whistleblowers," Brickman's attorney Thomas Nesbitt, of the Austin firm DeShazo Nesbitt, said in Monday's hearing.
Paxton spearheaded a 17-state lawsuit against the Affordable Care Act and is one of former President Donald Trump's most ardent supporters. Many Texas Republicans last year demanded Paxton resign from office over the innumerable bribery and abuse of office claims against him.
Newsweek reached out to the Texas attorney general's office as well as his counsel for additional remarks Tuesday afternoon.