Texas Attorney General Ken Paxton is under fire for filing a hail mary 2020 election lawsuit at the expense of state residents.
On Tuesday, the Republican asked the U.S. Supreme Court to throw out the voting results in four battleground states—Georgia, Michigan, Pennsylvania and Wisconsin—that went for Joe Biden over President Donald Trump.
Paxton alleged that the states "exploited the COVID-19 pandemic to justify ignoring federal and state election laws and unlawfully enacting last-minute changes, thus skewing the results of the 2020 General Election."
Officials from each state quickly dismissed the charges. Georgia Deputy Secretary of State Jordan Fuchs deemed the claims are "false and irresponsible" and Pennsylvania Attorney General Josh Shaprio said that "these continued attacks on our fair and free election system are beyond meritless, beyond reckless."
When asked about the litigation during an interview with CNN Wednesday, Michigan Attorney General Dana Nessel said: "Well, firstly, I feel bad for the taxpayers in Texas that have to finance this ridiculous and frivolous lawsuit."
The sentiment has been echoed by several Democratic state lawmakers.
Representative Colin Allred, who serves the state's 32nd congressional district, also criticized Paxton for "wasting" public funds on the lawsuit.
"Deeply embarrassing that TX's AG is wasting our tax dollars trying to subvert an election," Allred wrote. "This stunt will not distract from Mr. Paxton's scandals and will not change the result of this election, it will only hurt our democracy and waste your money."
Rafael Anchia, a member of the Texas House of Representatives, also tweeted that the move was "Total WASTE of taxpayer money."
Nikki Fried, Florida's commissioner of agriculture and consumer services, said Wednesday that she sincerely hopes her state doesn't join the "baseless lawsuit" and that "using taxpayer dollars to try to undermine the voice of the American people is a desecration of our democratic system and a complete disgrace."
Theodore Rave, a professor at the University of Houston Law Center, told Newsweek that "it is true that this will be paid for by the taxpayers since the attorney general's office is a public official."
"It's certainly a waste of money, but it's probably not a waste of that much money just because it's so bad," Rave said, noting the case has a lot of problems and is not likely to go far in the Supreme Court.
He added, "This lawsuit doesn't strike me as a very serious lawsuit. I don't think this is going anywhere, it's more of a press release than real claims."
Jonathan Turley, a constitutional law scholar at George Washington University, also said the Texas case will be supported by public funds but noted that "the costs of such litigation are covered by the annual salaries of lawyers working for the Attorney General" and will be "relatively modest since the appeal can be taken directly to the Supreme Court and involve threshold legal issues."
Newsweek reached out to the attorney general's office for comment and an estimate of how much the litigation will cost but did not receive a response prior to publication.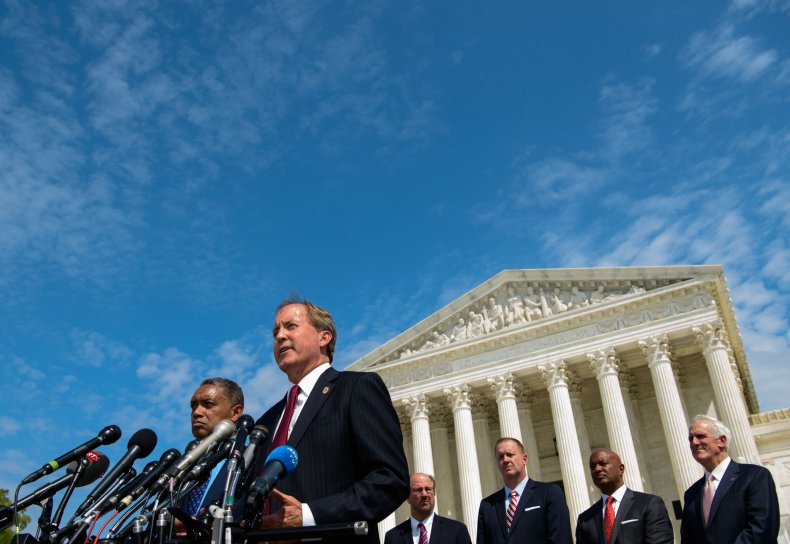 Trump announced Wednesday his campaign will join the Texas case to overturn Biden's win. He wrote on Twitter, "This is the big one. Our Country needs a victory!"
Biden has amassed 306 electoral votes, exceeding the necessary 270 to clinch victory in the state-by-state Electoral College, and is now winning the national popular vote by more than 7 million votes. So far, Trump has refused to concede the election and continues to baselessly claim that the contest was riddled with widespread voter fraud.
But legal experts have been quick to criticize Paxton's legal effort, arguing it's unlikely the Supreme Court will even hear the case let alone rule in their favor.
Steve Vladeck, professor at the University of Texas Law School, tweeted Tuesday that "it looks like we have a new leader in the 'craziest lawsuit filed to purportedly challenge the election' category." Rick Hasen, a professor of law and political science at the University of California Irvine, deemed the attempt "dangerous garbage."
"This is more than an Aaron Rodgers Hail Mary from midfield at Lambeau field. This is a Hail Mary from another stadium in a different state," Turley told Newsweek.