Texas AG Sues 6 School Districts, Calls Mask Mandates 'Unlawful Political Maneuvering'
Republican Texas Attorney General Ken Paxton has sued six school districts for instating mask mandates in defiance of the governor's ban.
In May, Texas' Republican Governor Greg Abbott issued an executive order banning schools from instating mask mandates for students and faculty. At least 108 of Texas' 1,247 public school districts defied his order.
Paxton is suing six school districts. Their names and student body populations are as follows: Elgin with 4,556 students, Galveston with 7,034 students, Richardson with 39,524 students, Round Rock with 51,208 students, Sherman with 7,510 students and Spring with 35,284 students.
Those six districts 145,116 combined students represent 2.6 percent of the state's total 5,479,173-person student body. It's unclear why Paxton chose to sue the six particular districts.
Geographically, the districts represent two in North Texas, two near Houston, one near Austin and one on the southeastern coast.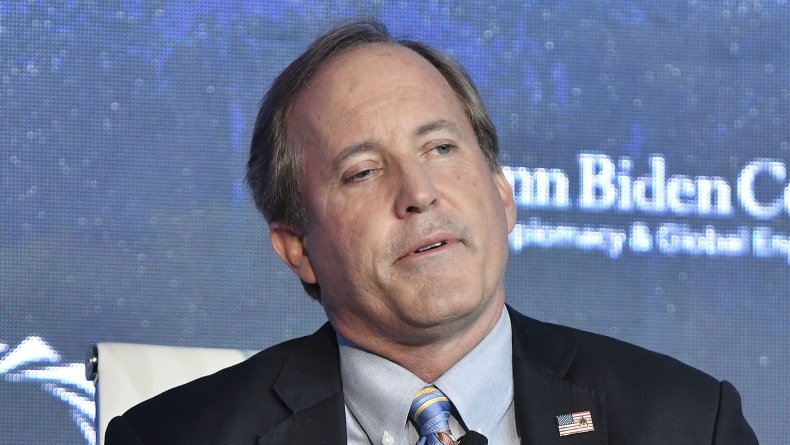 "If districts choose to spend their money on legal fees, they must do so knowing that my office is ready and willing to litigate these cases," Paxton said in a statement.
In response to Paxton's lawsuits, Round Rock Independent School District defended their mask requirement as helping their schools to stay open.
"We do work closely with both our local health authorities in Williamson and Travis counties who advise us that masks remain an essential tool in stemming the spread of COVID-19 in our classrooms," the statement said, according to the left-leaning news site RawStory.com.
At least 108 of Texas' 1,247 public school districts have mask mandates. While that's only 8.5 percent of the state's total districts, that also includes five of the state's biggest school districts. Those five districts alone contain over 10 percent of the state's 5.4 million students.
During President Joe Biden's Thursday speech outlining his administration's six-point plan for fighting COVID-19, he called out Abbott and Florida Governor Ron DeSantis of Florida for threatening schools that implement student mask mandates.
"Right now, local school officials are trying to keep children safe in a pandemic, while their governor picks a fight with them, and even threatens their salaries or their jobs. Talk about bullying in schools," the president quipped.
"If these governors won't help...I'll use my powers as president to get them out of the way," he added.
Abbott threatened $1,000 fines for school officials who imposed mask mandates. Biden said on Thursday that any teacher or school official whose pay is withheld for "doing the right thing" will have their pay restored entirely by the federal government.
"I promise you I will have your back," Biden said.
In the same speech, Biden mandated vaccinations for 100 million American federal employees and employees of federal contractors. The mandate got Biden an avalanche of lawsuits opposing it.
In response to Biden's comment and mandate, Abbott tweeted that "Texas is already working to halt this power grab." Abbott said he had issued an executive order against Biden's mandate and added it to the special session agenda for Texas lawmakers.
Newsweek contacted the White House for comment.