With governments across the world shutting down New Year's gatherings to prevent a massive rise in coronavirus infections, local leaders in Austin, Texas, and Travis County are issuing new dining restrictions for the long holiday weekend.
The orders, issued by Austin Mayor Steve Adler and Travis County Judge Andy Brown, come as Texas set a new hospitalization record this week. On Monday, the Texas Department of State Health Services reported 11,351 coronavirus hospitalizations, an all-time pandemic high.
However, Texas Attorney General Ken Paxton is arguing that the restrictive measures affecting restaurants and bars are outside of the city's and county's jurisdiction and is suing the city of Austin and Travis County.
"Mayor Adler and Judge Brown do not have the authority to flout Gov. Abbott's executive orders by shutting down businesses in Travis County and our state's capital city," Paxton said in a statement Wednesday.
"The fact that these two local leaders released their orders at night and on the eve of a major holiday shows how much contempt they have for Texans and local businesses," the attorney general added. "They think breaking the law is a game of running the clock before anyone can do anything about it. Texas is a law-and-order state, and these are people's lives and livelihoods that are at stake. I'll continue to defend them against the arbitrariness of the mayor and county judge."
Paxton filed a petition in the Travis County District Court for a temporary injunction and temporary restraining order to halt the enforcement of the four-day shutdown.
Earlier on Wednesday, Adler and Brown announced that dine-in food and beverage services must close between 10:30 p.m. and 6 a.m. from Thursday to Sunday.
The restriction would still allow for drive-thru, curbside pickup, takeout and delivery services. Those who violate the order would be subject to a maximum $1,000 fine but no jail time.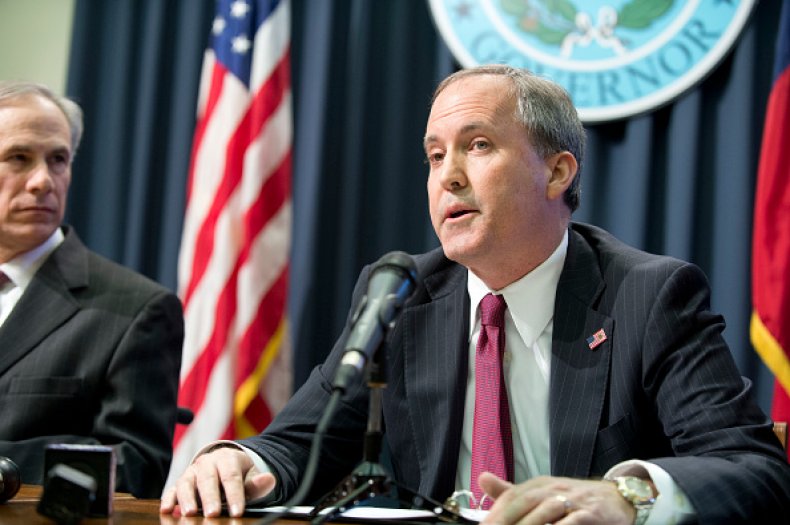 During a press conference, Adler said that the order doesn't violate state regulations because it's "just an operational constraint" and that the measures were specifically targeting "the activity where people are together without wearing masks."
Adler and Brown have cited the increase in coronavirus cases in the area as a driving factor in their decision.
Austin reported an additional 546 coronavirus cases on Wednesday after 697 cases on Tuesday. Comparably, during the fall, the city was reporting fewer than 100 daily cases on average.
"Austin's doctors are worried and exhausted," Adler told Newsweek. "They have pleaded with county judge Brown and me to do whatever we can to limit people being unmasked around others not in their households, specifically including while eating and drinking at homes, restaurants and bars."
He added, "We are trying to save as many lives as we can and are following the medical and scientific advice."
Travis County has the sixth highest number of confirmed cases in the state, with 49,648 infections, according to the state's department of health. In the last month, the county's positive rate and intensive care unit bed capacity have almost doubled.
In reaction to Paxton's lawsuit, Adler said during a Wednesday livestream that "even if the court rules tomorrow that everyone has a right under the governor's orders to go out and take your mask off when you are around other people at a restaurant on Thursday, Friday and Saturday night, that doesn't mean that you have to do it."
The mayor added, "We are asking everyone in this community to really think hard about what they are doing, about what they can do to contribute during this peak time."
Despite pleas from local officials to avoid late-night dining, Texas Governor Greg Abbott insisted that such orders are not allowed under state rules.
"My executive order stops cities like Austin from arbitrarily shutting down businesses," Abbott tweeted on Wednesday.
The Texas Restaurant Association suggested that Austin businesses defy the restrictions, writing that "closing indoor dining will not prevent holiday celebrations; it will simply move them from highly regulated businesses into completely unregulated spaces at a critical time in our COVID-19 response."
Adler told Newsweek that his orders do not go against Abbott's.
"We believe cities have the authority to react to local conditions and protect their residents when the state won't," he said. "We also believe our orders do not conflict with the governor's rules.
"Regardless of how the court rules, each of us, individually, has to decide what we're going to do to best protect our neighbors and save lives. Hospital capacity is on the line, and a vaccine within reach of our most vulnerable family members and neighbors," the mayor continued. "This is not a drill: Austin is experiencing uncontrolled spread of the virus."
This story was updated at 12:24 p.m. with comments from Austin Mayor Steve Adler.