Texas AG Will Challenge Mail-In Voting, Says 'Fear' of Coronavirus Isn't Enough: 'We Trust Our Voters to Do the Right Thing'
Texas Attorney General Ken Paxton vowed to fight a ruling allowing Texas voters to use mail-in ballots, claiming that "fear" of catching the coronavirus is not a valid reason to avoid the polls.
Paxton made the comments during a Wednesday interview on MSNBC. Host Chuck Todd asked the attorney general why he is fighting the ruling of a federal judge who decided on Tuesday that voting by mail would be allowed due to coronavirus concerns.
"We have to trust voters to do the right thing. The law is pretty clear," Paxton said. "It doesn't allow for people to get mail-in ballots for fear of contracting corona or anything else, fear of being hit by a car on the way to vote. We trust our voters to do the right thing."
Co-host Katy Tur noted that contracting the coronavirus is likely to be a significantly more realistic concern than being hit by a car amid the pandemic and asked whether Paxton felt "confident" telling voters who may have underlying conditions that they must go to the polls despite the health risks.
"No, I'm not saying that at all," Paxton replied. "I'm saying the governor has just recently changed the dates for voting. Instead of 10 days of early voting, he's giving 20 days of early voting. As time goes on, there may be other ways that we can make it safer for people to vote."
"We surely want to make sure we have as safe of voting locations as we can, just like we have open grocery stores and restaurants now," he added. "Nothing's guaranteed."
U.S. District Judge Fred Biery ruled that state restrictions on mail-in voting were unconstitutional, writing that Texans should be given "the option to choose voting by letter carrier versus voting with disease carriers." Paxton said in a statement that the ruling "ignores the evidence and disregards well-established law."
The judge also said that Paxton likely engaged in voter intimidation by threatening to criminally prosecute election officials who encouraged voters to vote by mail.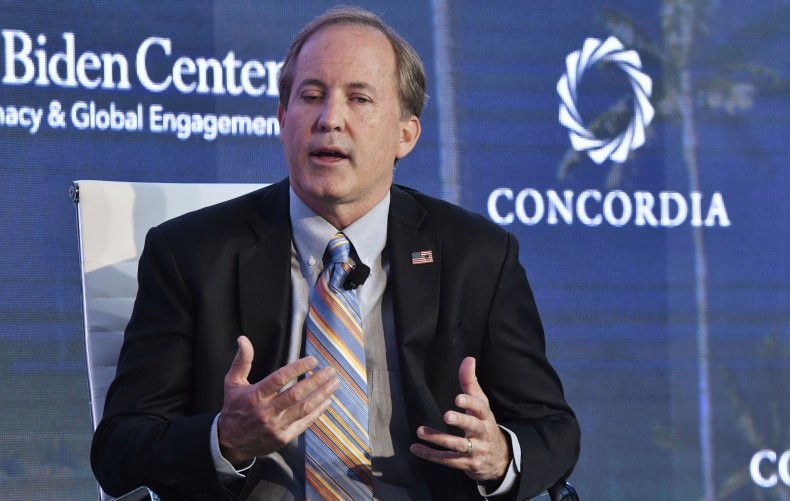 The issue of allowing mail-in voting during the pandemic has become a heated, often partisan issue as November's election approaches. Experts have largely disputed the notion that mail-in voting is rife with fraud, or that it favors politicians of any particular party.
President Donald Trump claimed that voting by mail is "corrupt" during an April 7 press briefing, despite having used mail-in ballots himself in the last two elections. He said that his own voting by mail was not corrupt because it was done from a different state.
"I'm allowed to," the president said. "That's called 'out of state.' You know why I voted? Because I happen to be in the White House, and I won't be able to go to Florida to vote."
Trump insisted that mailing in ballots from a different state is more secure than in-state voting because it is "sealed, certified and everything else." He said that allowing other forms of mail-in voting is "terrible," claiming that it leads to groups of thousands gathering to fill out fraudulent ballots.
"You get thousands and thousands of people sitting in somebody's living room, signing ballots all over the place," Trump said. "I think that mail-in voting is a terrible thing."
Newsweek reached out to Paxton's office for comment.