Texas Allows Hair Salons, Barbershops, Cosmetologists and Tanning Facilities to Reopen Friday
Texas Governor Greg Abbott announced Tuesday that personal service providers, such as barbers, hair salons and cosmetologists can open for business on Friday. Fitness centers and gyms will be allowed to open for business May 18.
Businesses of this type are not required to open, but proprietors are expected to use their best judgment concerning reopening their doors to the public.
Hair stylists will only be allowed to receive one client at a time unless customers are waiting for service. Social distancing protocols will still be enforced. Customers and stylists are encouraged to wear face masks.
When gyms reopen, they can only allow 25 percent capacity. Customers must wear gloves that cover the entire hand. During the first phase of reopening, showers and locker rooms will be closed. Social distancing must be employed and equipment is required to be disinfected. Yoga mats brought from home to fitness facilities must also be disinfected.
Non-essential manufacturing can also begin again on May 18, with the caveat that all employees must be scheduled in staggered shifts to avoid too many people entering and exiting at the same time.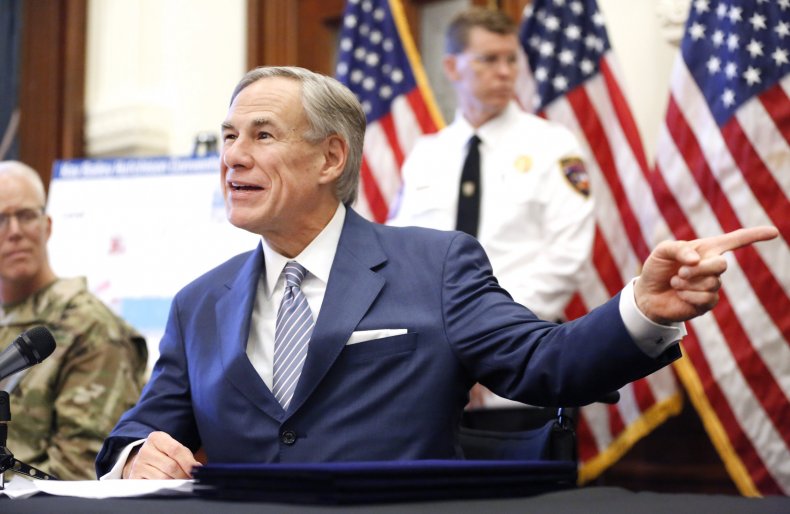 Abbott allowed stores, cinemas and restaurants in Texas to open at 25 percent capacity on Friday. Outdoor seating at restaurants is not subject to the capacity limitation, although social distancing protocols should be observed. However, bars in Texas are still closed as the state works on a timeline to reopen those businesses safely.
Newsweek reached out to Governor Abbott's office for further information. This story will be updated with any response.
While Abbott acknowledged that positive coronavirus cases could increase as the state begins to open back up, he said the current hospitalization rate was declining. Abbott also claimed that over 95 percent of all Texans tested for coronavirus received negative test results.
"If you look at where we are now," Abbott said Tuesday, "if you look at how Texans are responding now and if we are able to maintain that response, we shouldn't have any challenges."
Although Texas has allowed the reopening of movie theaters, some of the largest cinema chains have chosen not to reopen their businesses.
Regal Cinemas has not pinpointed an opening date for its theaters while AMC has said it will not reopen until studios schedule new films for release. Cinemark is angling to reopen sometime during the summer.
Texas-based cinema chain Alamo Drafthouse also has yet to open, saying in an April statement that the reopening would be a "complex project."
"Opening safely is a very complex project that involves countless new procedures and equipment, all of which require extensive training," the company said. "This is something we cannot and will not do casually or quickly."
According to recent data from the Texas Department of Health and Human Services, 33,369 cases of coronavirus have been confirmed in the state. Out of those, 16,791 are listed as fully recovered. There have been 906 fatalities attributable to the virus in Texas.
Texas Allows Hair Salons, Barbershops, Cosmetologists and Tanning Facilities to Reopen Friday | U.S.