Texas Student's Graduation Photos with 14-Foot Alligator Go Viral: 'He's One of My Best Friends'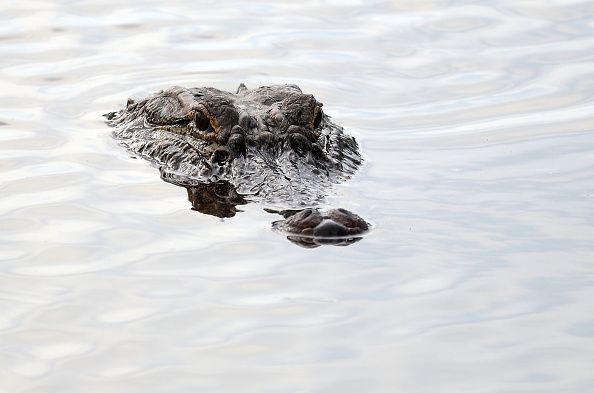 A Texas A&M student who took some graduation photos with her best friend is getting a lot of attention on social media. And that's because her best friend is a 14-foot alligator.
Makenzie Noland, 21, decided to celebrate her upcoming college graduation by snapping some photos with her alligator friend "Big Tex," who lives in Gator Country, a wildlife sanctuary in Beaumont, Texas. Noland posted the photos to her Facebook account on Friday.
The photos show Noland posing next to the alligator in a series of photos. In one photo, the alligator is balancing Noland's class ring on his nose while another photo captures her petting the gentle giant. The 21-year-old, who is getting a degree in Wildlife & Fisheries Sciences, told KTXS that she has been interning at the park and sanctuary since May 17, teaching visitors all about alligators.
"He's one of my best friends here," Noland told KTXS.
Noland's pictures already have over 1,800 reactions and over 5,000 shares on Facebook. She told The Wichita Eagle it took Big Tex some time to warm up to her when she first started interning at the sanctuary, but they eventually became close with one another as time went on. The 21-year-old even compared the alligator to a dog.
"It's just like how your dog would treat you if you treat him well," Noland told The Wichita Eagle.
The close bond the two have influenced Noland to take her graduation photos with the alligator, Noland told Fox News. She said she wanted to portray her love and passion for animals, especially for alligators. Noland told the news station that it was an honor to have been able to work with him.
"Every single time I get in the water with him I realize how huge of a creature he is. He's a real-life dinosaur," Noland told Fox News.
Many have criticized Noland's choice for taking photos with Big Tex, claiming that snapping the photos with the alligator is dangerous. The soon-to-be graduate told Fox News that she would never put herself or the animals in danger.
"I would never do anything to risk my own life. I'm doing things supervised. I'm trained," she told the news station. "Animals can react differently to different situations. We look at all that behavior. If the animals aren't working well, then we're getting out of the water and letting them be."
Newsweek has reached out to Noland for comment on the photos but did not hear back in time for publication.
In June, a viral video of a mother filming her son, Timmy, playing with an inflatable alligator cut was short after she noticed a live alligator inches away from her son. That video had been viewed over 27,000 times.