Texas Anti-Mask Activist Caleb Wallace, Who Opposed 'COVID Tyranny,' Dies of the Virus
Caleb Wallace, a Texas anti-mask organizer, has died at the age of 30 after contracting COVID-19.
On a GoFundMe page set up to support Wallace's family, his wife, Jessica Wallace, wrote Saturday that "Caleb has peacefully passed on."
"He will forever live in our hearts and minds," she said.
Wallace helped organize a group in Texas called the San Angelo Freedom Defenders, a group that opposed COVID-19 restrictions.
In an interview in October 2020, Wallace discussed a rally the group had planned—called "An End to COVID Tyranny," he said—and discussed various concerns.
"The basic rights of breathing free air, moving about freely, going into businesses without being harassed about a mask...these doctors leveling these ridiculous restrictions upon its citizens with no representation in city council, commissioners' courts," he said. "We're not just a bunch of angry people, we're people that yes, we are fed up, but we also want to provide options and to provide a positive option."
In July 2020, Wallace helped organize a "Freedom Rally" in San Angelo, which was described as a peaceful protest by people "sick of the government being in control of our lives," the San Angelo Standard-Times reported.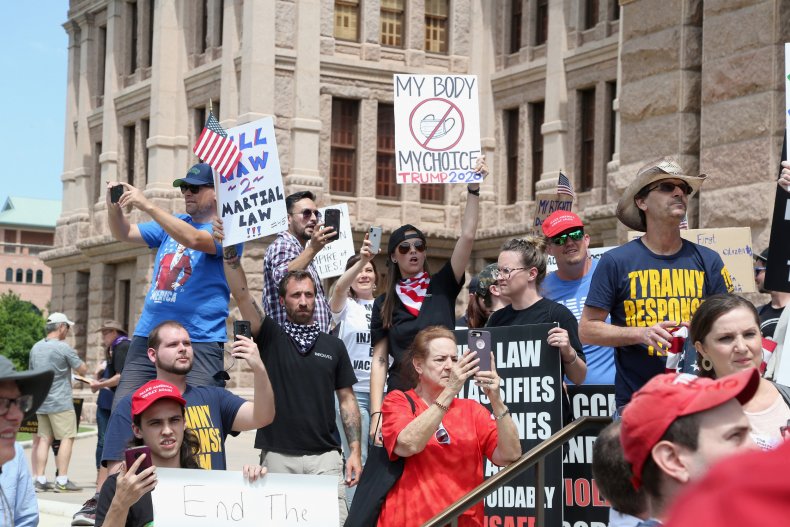 Jessica Wallace told the Standard-Times that her husband started experiencing COVID-19 symptoms on July 26.
At first, he declined to get tested for COVID-19 or go to the hospital, she said. He medicated using ivermectin—a drug that's often used to treat parasites in people and animals, and which the U.S. Food and Drug Administration has said shouldn't be used to treat COVID-19—along with zinc, aspirin, Vitamin C and an inhaler, the newspaper reported.
"He was so hard-headed," Jessica Wallace said.
"He didn't want to see a doctor, because he didn't want to be part of the statistics with COVID tests."
However, by July 30, a relative had taken him to a hospital, the newspaper reported.
Weeks later, on August 27, Jessica Wallace wrote that her husband wouldn't survive much longer, and that he would be "moved to comfort care" the next day.
"You all have the right to feel the way you feel as Caleb once fought for his beliefs. He was an imperfect man but he loved his family and his little girls more than anything," Wallace said.
"To those who wished him death, I'm sorry his views and opinions hurt you. I prayed he'd come out of this with a new perspective and more appreciation for life. I can't say much more than that because I can't speak for him," she added.
She also wrote that she is expecting another child in September.
Newsweek attempted to reach Jessica Wallace for comment through her GoFundMe page but had not heard back before publication.