Texas Assistant AG Says He Was Fired Over Tweets Supporting QAnon
An assistant attorney general in Texas said on Thursday that he was terminated due to his support for the conspiracy theory group QAnon.
Nick Moutos' dismissal was first reported by The Houston Chronicle on Thursday when a spokesperson for Texas Attorney General Ken Paxton confirmed that Moutos did not work for Paxton's office any longer. According to a state employee database managed by The Texas Tribune, Moutos began working for the attorney general's office in April of 2017, and a State Bar of Texas record on Moutos also listed him as an employee in Paxton's office.
The spokesperson did not elaborate on why Moutos was no longer with the department, according to the Chronicle. Newsweek reached out to Paxton's office for comment but did not receive a response in time for publication.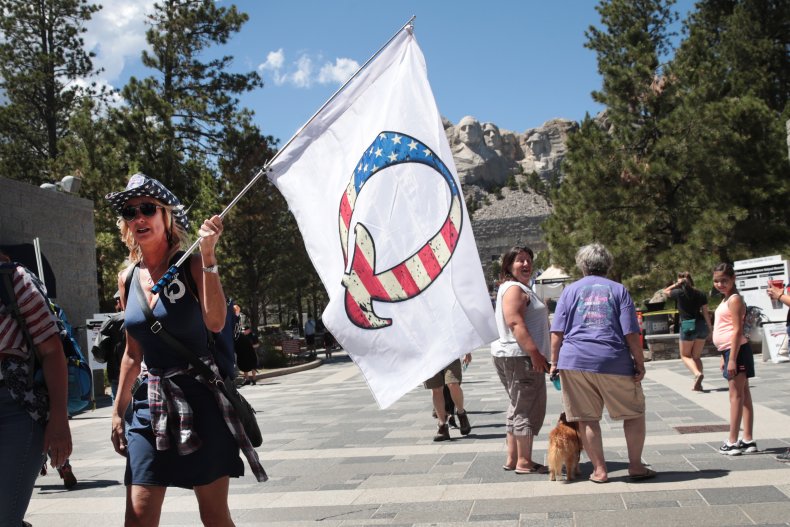 Moutos tweeted about his dismissal shortly after Media Matters for America, a media watchdog organization, published a report about his social media activity. Moutos mentioned the watchdog report in one of his tweets about his termination.
Media Matters "considers QAnon & any supporters #ViolentExtremists," Moutos said in one tweet. His defense of QAnon supporters "was used as a reason to terminate my employment," he added.
QAnon gained traction online this year as a far-right conspiracy theory. Many of those who support QAnon believe that there is a plot to prevent President Donald Trump from winning reelection in the fall.
Trump said during a news briefing last month that he hasn't heard much about the movement, but added, "I understand they like me very much, which I appreciate."
Moutos implied in his social media posts that his support for QAnon was not the only political view that put his job in jeopardy. In another tweet on Thursday, Moutos said that "speaking out" about the pandemic and "Democrats using it to steal" the upcoming presidential election "makes people angry." Coverage of his posts on social media "were enough to cost me my job," he wrote.
According to the Media Matters report, Moutos' activity on social media indicates he "believes that the country is in the middle of the second Civil War," is anti-Muslim, anti-LGBTQ and endorses the QAnon movement. The report also identified Twitter posts in which Moutos threatened violence against public officials and Black Lives Matter protesters.
"Moutos is a QAnon supporter who has used his Twitter account to tweet violent threats at people and encourage followers to shoot Black Lives Matter protesters," the report said. "He's also complained that places are 'overrun' with Muslims, said that Reps. Ilhan Omar (D-MN) and Rashida Tlaib (D-MI) should be sent to Guantanamo, and promoted bigotry against LGBTQ people."
A tweet that Moutos posted later Thursday questioned the report's labeling of people who believe that LGBTQ individuals are "an abomination" as bigotry. Moutos mentioned both the Torah and the New Testament in his tweet and wrote about members of the LGBTQ community, "I don't hate them, but cannot condone the behavior."
In its report, Media Matters included screenshots of dozens of Moutos' Twitter posts that it labeled as either violent or anti-LGBTQ. Later Thursday, Media Matters researchers added an update to their analysis that mentioned reports of Moutos' termination.