Texas Attorney General Says Local Governments Cannot Override State Mandates To Delay Evictions
The Texas attorney general announced Friday in a non-binding legal opinion that local governments across the state would not be allowed to exercise emergency powers to freeze or delay evictions, arguing that doing so would be rewriting state law.
"While local officials do possess certain emergency powers...statewide eviction procedures far exceed the requirement that those powers be exercised 'on an appropriate local scale,'" Texas Attorney General Ken Paxton wrote in a letter, adding that localities, even when operating under declared emergencies, do not have the power to "independently rewrite state law" as it applies to evictions.
Paxton did note, however, that any evictions occurring in the state between March 27 and August 4 were not allowed if they fell under the moratorium guidelines for evictions in the Coronavirus Aid, Relief, and Economic Security (CARES) Act.
A Texas Supreme Court eviction moratorium, which halted proceedings for all state residents beginning in mid-March, expired May 18.
Paxton's letter was in response to Texas state Senator Brandon Creighton, a Republican representing the state's District 4. Creighton's letter, sent June 25, asked Paxton for his legal opinion regarding whether emergency orders adopted by local governments had the authority to prohibit, delay or restrict eviction processes.
Creighton's letter addressed local ordinances set forth in Austin, Dallas and other Texas cities extending eviction protections in response to the coronavirus pandemic.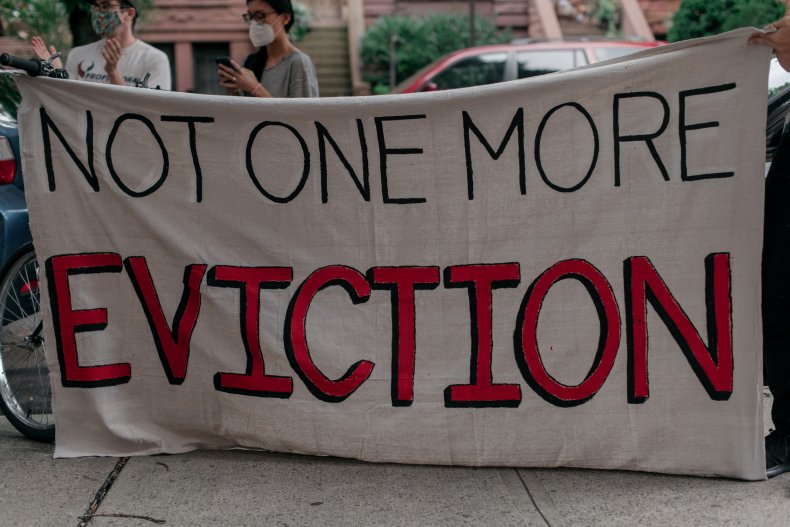 On July 24, Austin Mayor Steve Adler extended the moratorium on evictions in the city to continue until September 30. Adler's decision followed that of Sam Biscoe, a judge in Travis County, which contains part of Austin. Biscoe had issued an order July 22 allowing the county's eviction moratorium to continue until September 30.
Similarly, judges in Dallas County announced they would not hear eviction cases between the first weeks of July and August for any tenant unable to pay rent. Seven of the 10 judges agreed to extend the policy, which was meant to expire Wednesday, until August 24, Judge Clay Jenkins tweeted Thursday.
"This should give Congress enough time for the Republican-led Senate and the President to agree with the Democratic-led House on extending the $600 unemployment benefit and rental assistance passed two months ago by the House," he wrote.
It was not immediately clear how Paxton's opinion might affect the judges' decisions regarding evictions. Newsweek contacted Biscoe and Jenkins for comment, but did not hear back in time for publication.
Paxton's opinion does not affect Adler's order, the mayor wrote in an emailed statement to Newsweek.
"My Order and the City's Notice of Proposed Eviction ordinance do not decrease the amount of process due to the parties to an eviction proceeding and, as a result, do not amend statewide eviction procedures," Adler wrote. "Instead, these actions, which are lawful, address the occupancy of premises within the city to reduce person-to-person contact to slow the spread of COVID-19."
Recent surveys suggest that many Americans are still reeling from financial stress brought on by the coronavirus pandemic.
A U.S. Census Bureau survey showed that an estimated 27 percent of U.S. adults missed their July rent or mortgage payment, Bloomberg CityLab reported. More than one-third of renters said they had little to no confidence they could make their August payment, according to the data. This statistic rose slightly in Texas, with 39 percent of renters answering they weren't certain they could make the payment this month.